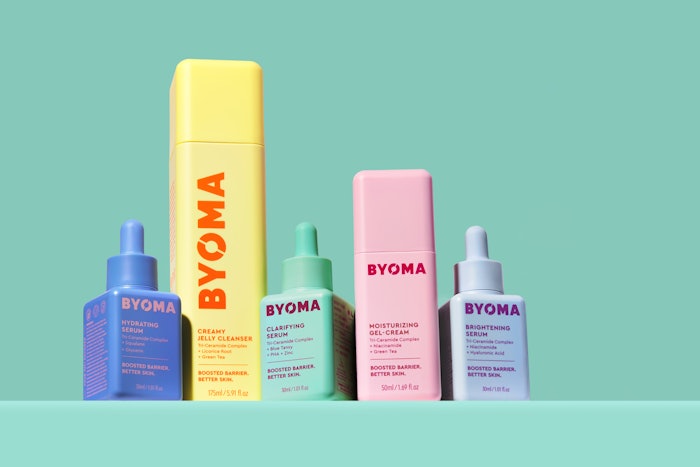 Future Beauty Labs has announced that Byoma is launching into 715 Ulta Beauty stores starting October 16, 2022, and is now available online at UltaBeauty.com.
Byoma was Target's biggest skin care launch of 2022. It reportedly experienced a repurchase rate 28.3% above competitive skin care brands at Target.
Ulta Beauty clients will be able to purchase the six-piece collection featuring a range of dermatologist-approved, clinically proven, science-backed formulas.
Each product features Byoma's proprietary barrier-health complex (combining ceramides, cholesterol, and fatty acids at a 3-1-1 ratio), plus handpicked active ingredients to boost, build, balance and brighten skin.
The collection includes:
Creamy Jelly Cleanser
Moisturizing Gel Cream
Brightening Serum
Hydrating Serum
Clarifying Serum
Hydrating Trio Kit
Marc Elrick, brand founder and CEO, said, "The focus on skin barrier health and the creation of skin-compatible skin care means healthier results regardless of age, skin-tone, type or gender. Gentle enough for sensitive skin, yet powerful enough to deliver effective, noticeable results."