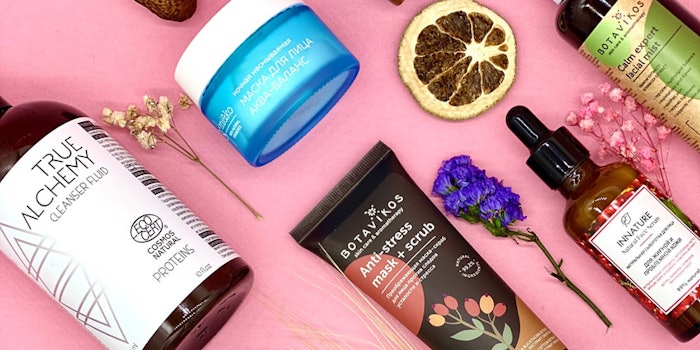 Rumore Beauty has launched its online store, reportedly making it the first dedicated Russian beauty store in the United States. Rumore Beauty offers brands that are born and made in Russia and create natural products.

Related: Bonne Opens B2B Website
Brands offered on the site include:
Botavikos, a natural cosmetics and essential oils brand

G.Love, a natural skin care brand 

Innature, a skin care brand based on local natural resources from the south of Russia

Mi&ko, a natural and sustainable person care brand

True Alchemy, a clean, clinically proven skin care brand

Laboratorium has been creating natural, vegan and cruelty-free beauty products
Global Cosmetic Industry recently interviewed Maria Karr, Rumore's co-founder and CEO, about the particulars of Russian beauty.
Global Cosmetic Industry: What distinguishes Russian beauty?
Karr: As an industry, Russian beauty has started to emerge only 15-20 years ago and I see it as one of the main differentiation points from beauty industries of other countries, that have been developing and evolving for many more decades.
For the most part of the 20th century, consumers in Russia had to rely on imported beauty and personal care products that were expensive and challenging to get, some domestically manufactured products that were lacking in both efficacy and presentation, and natural ingredients that were widely used for homemade health and beauty remedies.
For generations, Russian people have been closely connected to nature and the abundance of resources it offered for anything from boosting immunity to making a homemade hair mask or an herbal treatment for dry skin. 
These days it's hard to surprise anyone with natural ingredients. Many global beauty brands are turning to natural ingredients as consumers are becoming more conscious about using natural products in their lifestyle. But high dependence on nature has been an essential part of Russian culture and lifestyle for centuries, a part of our DNA. 
This strong bond with nature is still present in modern beauty products that are inspired by and made with natural authentic ingredients. Some of the ingredients that are very popular in Russian culture and are finding reflection in modern-day beauty products are sea buckthorn, black, red and white currant, yarrow, burdock, nettle, and cornflower, to name a few. 
With Russian beauty industry being so new, it has been built on modern manufacturing practices and present-day approach to taking care of the environment and sustainability. Many products in our assortment come in glass bottles and jars, are vegan and cruelty-free.
Also, it's worth noting that while we haven't intentionally curated brands with focus on female entrepreneurship, all six brands in our portfolio have been founded or co-founded by women.
Global Cosmetic Industry: What types of beauty brands are retailing on the site currently?
Karr: Currently, we have a curated assortment of 50+ skincare products from six brands born and made in Russia–mi&ko, Botavikos, Innature, True Alchemy, Laboratorium and G.Love. 
We've made a decision to focus on facial skin care products for our original launch, however, most of our brand partners are well-versed in other beauty categories with hair care and body care products available in Russia. 
While our assortment is currently centered around clean, nature-inspired facial skincare, we wanted to offer U.S. consumers a diverse variety of brands to explore and choose from. 
Botavikos has been known as an essential oils and aromatherapy expert before they expanded into skincare, offering plant-based hypoallergenic, vegan and cruelty-free formulations. Innature takes pride in creating skincare products based on local natural resources from the south of Russia–a region known for the most fertile soil and warm climate.
mi&ko has been at the forefront of sustainability in Russia, offering 100% natural, eco-friendly and cruelty-free formulas with most products certified by COSMOS Organic and COSMOS Natural. 
G.Love was created by a duo of cosmetic chemists out of inspiration from fruits and vegetables – vitamin and nutrient-packed beauty heroes.
True Alchemy offers clean, clinically proven skincare formulas based on wholesome, functional active ingredients of natural origin, with all products certified by COSMOS Natural. Laboratorium is committed to quality of ingredients and products and respect for the environment through recycling and sustainable manufacturing practices. 
Global Cosmetic Industry: How do you view the prospects for Russian brands internationally? What are the opportunities you see? 
Karr: For many people, Russia still remains the unknown and unexplored place and the sentiment is the same when it comes to modern Russian culture–beauty, fashion, food, music, cinematography and other areas. 
Russian beauty is just starting to develop and emerge. Despite its newness on the global beauty scene, it's already been making strides in Europe and now we're excited to introduce Russian skincare to the U.S. consumers through Rumore Beauty (the name stands for "more Russian beauty") .
I find it surprising that while U.S. consumers have had access to beauty products from around the world, Russian beauty hasn't been on anyone's radar or a part of a larger global beauty conversation.
Being born and raised in Russia, I started to wonder why that could've been the case and when I discovered the abundance of Russian-made beauty brands on my recent trip to Moscow, I knew that was something that the American consumers should know about. That's how the idea for Rumore Beauty was born. 
In addition to a few established brands that have been around for 10-15+ years, I notice that new brands are consistently appearing on the market, spanning various categories, including skincare, makeup, body care, hair care, and others. We're hoping to expand our assortment of Russian beauty products and continue introducing new brands to the U.S. market. 
While the U.S. is the biggest geographical leap for Russian beauty at the moment, I think that this is just the beginning and, with time, Russian beauty brands will become available and more widely known among beauty lovers on other continents