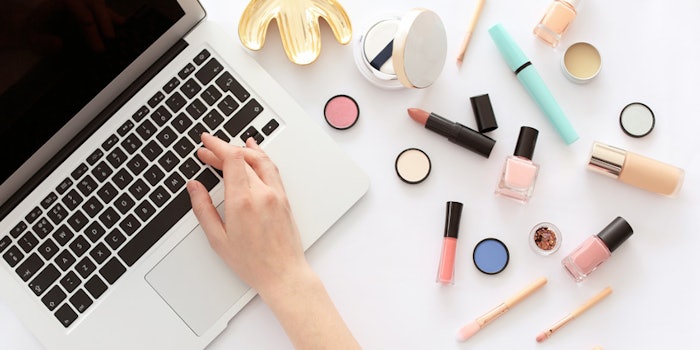 As e-commerce platforms shift and evolve, one thing remains that same: beauty products are among the top-purchased products online. 
According to an e-commerce survey conducted by Dotcom Distribution, there has been a shift in online shoppers' priorities from previous years. The survey, which polled more than 1,400 online consumers, found that shoppers place a high value on gift-like packaging and fast delivery, among others. 
Key Findings 
Beauty products were the third-most purchased products online at 41%, behind clothing and apparel (77%) and consumer electronics or technology (52%).
Beauty products ranked No. 6 for products consumers preferred to purchase in-store versus online. 
Giveaways—

magnets, coupons or stickers—were the third most influential amenity respondents reported would motivate them to recommend a brand to others.

Millennial and Gen Z consumers said they would be more likely than not to make future purchases with a brand that included a free giveaway.
90% of respondents place a high value on free returns when making an online purchase.
91% view free shipping as a factor influencing future purchases. 
56% said free returns are "very important."
62% would buy again from a brand that offers free returns and exchanges.
67% would be likely to add items to online shopping cart to receive free shipping.
44% of respondents doing a majority of their online shopping on Amazon. 
Respondents who tried same-day delivery rose 19% compared to 2017 (42% vs. 23%).
Only 25% of 2018 survey respondents were willing to pay extra for faster shipping.
Gen Z Consumers
36% named same-day delivery as a top influence in future purchase decisions—higher than any other generation.
87% are more likely to make online purchases if they can return in-store.
75% are more likely to purchase from a retailer again if an online order came with a free giveaway.
Millennial Consumers
76% would add items to online carts to qualify for free shipping.
36% prefer buying online— both more than any other generation.
79% are less likely to buy again from an e-tailer if delivery is delayed.
60% are more likely to purchase from an e-tailer again if an online order came with a free giveaway.
Baby Boomers
Less than 1% expect one-day delivery—the lowest of any group.
95% of purchase decisions are "somewhat" or "greatly" influenced by shipping costs—more than any other group.