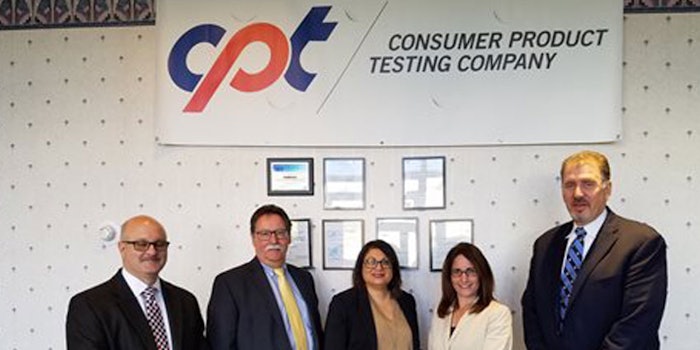 Consumer Product Testing Company (CPTC) has announced its recent support from the New Jersey Economic Development Authority (EDA) in allowing the business to purchase a permanent location in Fairfield.
With the EDA's Premier Lender Program—lowering the cost of borrowing for small businesses through EDA's partnership with more than two dozen banking partners—CPTC was able to purchase the 44,000-square-foot facility, which it leased for 20 years.
The Premier Lender Program offers low-cost financing with a quick turnaround time from approval to closing and a reduction of the lender's risk. Additionally, Bank of America provided CPTC with a line of credit to purchase equipment in addition to providing a loan that included a 44% EDA participation.
CPTC is a family-owned business based in Essex County, New Jersey, testing cosmetics, personal care, pharmaceuticals, medical devices and specialty chemicals for clients with products at every stage. The company also has a medical advisory board consisting of dermatologists, ophthalmologists, pediatricians and a gynecologist and dentist.
Furthermore, CPTC is regulated by the U.S. Food and Drug Administration, Environmental Protection Agency and Drug Enforcement Agency, and it offers analytical chemistry, clinical safety efficacy, claims validation, photobiology, microbiology, sterility testing and in vitro toxicology testing services.
"Today's visit enabled me to see firsthand how CPTC has leveraged funding through State programs to thrive here in New Jersey and contribute to the Garden State's workforce," said Melissa Orsen, CEO, EDA. "I encourage other small business owners to reach out to the EDA to see how we can support their growth."
"Our location here in Essex County is ideal, as it is easily accessible to so many pharmaceutical, cosmetic and personal care clients," said Melvin Weiss, chairman, CPTC. "Using our innovative services, our esteemed professionals routinely test products for companies of all sizes, from the smallest of startups to Fortune 100 companies. We are thankful to the EDA and Bank of America for helping us continue to grow."