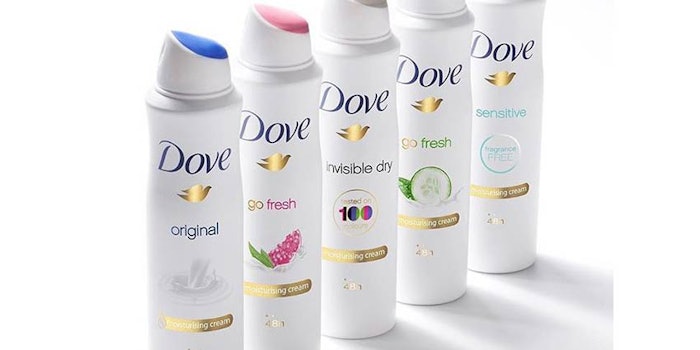 @dove/ via Instagram.com
Unilever has released its Q1 2018 financials.
The personal care giant saw sales across all divisions, excluding spreads, grow 3.7%. In the beauty and personal care category, skin cleansing delivered strong growth, due to an aerosol mousse launch across five European brands and the launch of the Dove Exfoliating Body Polish in North America. Vaseline, Dove Nourishing Secrets, the Dove Derma Series in the United States and Dollar Shave Club's U.K. launch were also highlighted among skin care growth drivers.
Sunsilk, Dove and TRESemmé were volume growth drivers in hair care. Deodorants, assisted by innovations including Rexona Antibacterial and Invisible, saw good volume growth but negative price growth in highly promotional markets.
Related: [video] Unilever Names Rotterdam as New Headquarters
"The first quarter demonstrates another good volume-driven performance across all three Divisions. The broad-based growth, including over 4% volume growth in emerging markets, shows that the 'Connected 4 Growth' program is working and enhancing our long-term compounding growth model," said CEO Paul Polman. "We are further improving the quality and speed of our global and local innovation as a result of a more agile, consumer-facing organization. At the same time, we are maintaining strong delivery from our savings programs and expecting to complete the exit from spreads in the middle of the year."