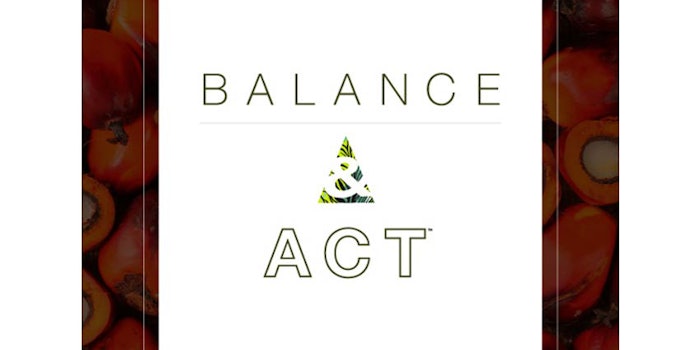 Inolex has fully transitioned all palm-derived products within its portfolio exclusively to Roundtable on Sustainable Palm Oil (RSPO) Mass Balance certified material as part of its Balance & Act Program.
Previously: How Function of Beauty Makes Hair Care Personal
The company recently released its 2019 Sustainability Progress Report, which spotlights key initiatives accomplished during the past year, including the company's commitment to traceability. The Balance & Act Program surrounds Inolex's commitment to help transform the palm oil industry and promote sustainable palm production and trade through sourcing certified, traceable raw materials.
In January 2018, Inolex began offering customers the option of RSPO Mass Balance certified material for all palm-derived ingredients in its portfolio. Taking the next step, earlier this month the company announced it has moved to 100% RSPO Mass Balance certified palm feedstocks.
All palm-derived products will be manufactured exclusively from RSPO Mass Balance certified materials, which will be designated by the "MB" at the end of the product name.
Formed in 2004, the RSPO is a global, multi-stakeholder initiative on sustainable palm oil to develop and implement global standards for sustainable palm oil. The RSPO mission is to transform markets to make sustainable palm oil the norm.
MB is one of three supply chain models in the RSPO Supply Chain Certification scheme. To sell MB products, a site must comply with the RSPO standard, undergo an audit and maintain their certification. The MB versions of products are chemically equivalent to the original product.
Also highlighted in the 2019 Sustainability Progress Report is the Inolex's participation in the USDA BioPreferred Program to independently certify the naturality and sustainability of its plant-derived technologies. As of December 31, 2019, Inolex has the largest USDA BioPreferred Certified ingredients portfolio for the category Intermediates - Personal Care Product Components, with 83 products.
Serving as an interim report, the 2019 Sustainability Progress Report also notes the company's successful transition of its U.S. production platform in 2019 to a new flagship manufacturing site in Charlotte, North Carolina.
"As an independent ingredient manufacturer, we are going above and beyond what our partners and customers expect," said Lisa Gandolfi, Ph.D., director of marketing. "We knew it was time to take the lead with this important step to help shift the industry standard towards more sustainable palm sourcing and trade."