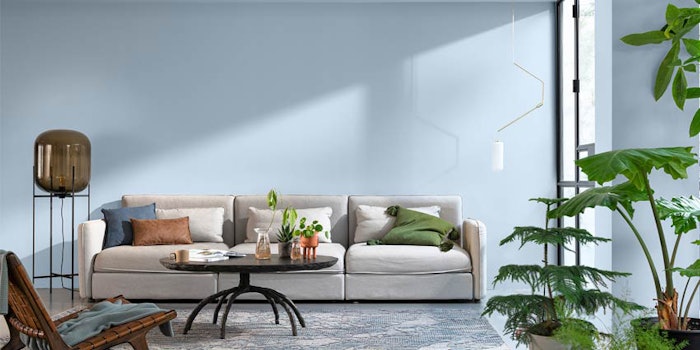 Dulux has announced Brighter Skies as its Dulux Color of the Year 2022. Dulux also created four palettes inspired by the sky-blue color: workshop, greenhouse, studio and salon.
Related: Pantone's 2021 Color(s) of the Year
Color experts at Dulux's Global Esthetics Center chose Brighter Skies as the winner based on its application to the following values: expanding the role of the home; nature is essential to life; art can bring comfort and inspiration; embrace new voices and ideas for a brighter future.
Dulux recommends pairing Brighter Skies with vibrant colors from the workshop palette to create a multi-functional space. Pair it with greens and blues from the greenhouse palette to complement the surrounding nature.
Dulux says the soft shades from the studio palette can create an inspiring and recharging space. The combination of Brighter Skies with the soft whites and light neutrals in the salon palette provides a neutral blank canvas for daily life, per the company.