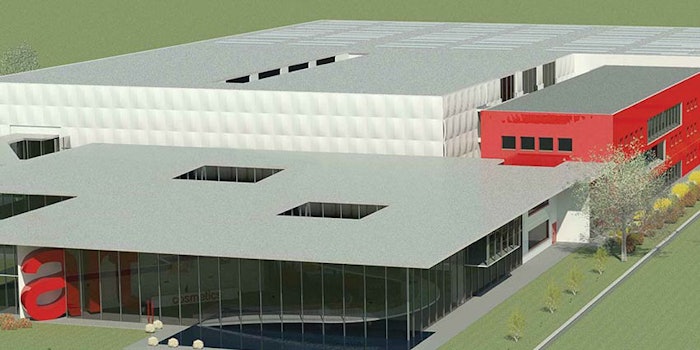 Privately owned Italian cosmetics manufacturer ArtCosmetics grew from revenues of $52.6 million in 2015 to $108.7 million in 2018. By 2020, the company expects to reach $210 million, in part by growing its reach in the U.S. beauty market, serving indie brands and expanding into skin care.
The company currently has 280 customers in 29 countries and is opening a new 325,000-square-foot facility in Mozzanica, Italy, which is focused on producing emulsions and anhydrides, foundations, mascaras and lipsticks. The site will also host a new innovation center with a 16,145-square-foot laboratory.
The new location will include a pilot area that will be used to experiment with advanced work processes, according to ArtCosmetics. There will also be a center of excellence for powders, including baked powders, set up on the current premises. 
U.S. Expansion
The company built its reputation in Europe with its expertise in emulsions for foundations, mascaras and lip cosmetics. It has since expanded into other categories and established a North American sales office and showroom in Manhattan, which is run by lead U.S. executive Lori Kutch.
Kutch says that the company was little known in North America at the time, but steadily grew from sales of 5 million euros in the market to 50 million euros in just a few years. The executive notes that the growth was in part due to work on major beauty brand projects, which enhanced ArtCosmetics' reputation.
Serving Indie Beauty
Indie brands are disruptive and different, says Kutch, and feed new ideas and marketing themes into the industry. However, they also require unique services.
That's why ArtCosmetics has focused on establishing lower minimum order quantities and working in shorter development cycles. As a founder-owned company, Kutch says ArtCosmetics functions similar to a startup organization and can offer a more intimate development relationship with customers.
Trend-driven Focus
The company is harnessing new capabilities like in-line product projects and emerging trends to drive growth.
Kutch notes that ArtCosmetics follows the signals on social media and has enhanced its services for clean beauty formulas that perform.
The company, which currently produces all color cosmetics except nail polish and pencils, is expanding into the vibrant skin care market in 2019. Kutch says that the company's expertise in innovative textures will drive its innovation in the segment.
Finally, says Kutch, the facility expansion will grant ArtCosmetics more development capacity, providing the company further room to grow in the U.S. cosmetics market.