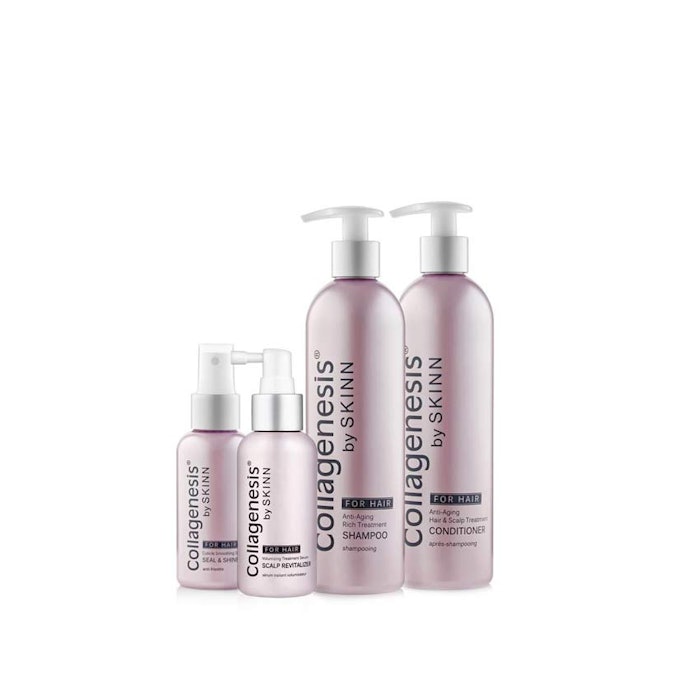 When it comes to locks, anti-aging and taming frizz is all the rage, which is why Skinn Cosmetics' Hair Care has launched a new hair care line with anti-aging and smoothing properties. 
Anti-aging Hair Care 
Researched and formulated by founder/CEO Dimitiri James, Skinn Cosmetics unveiled Skinn Cosmetics' Collagenesis Anti-Aging Rich Treatment Shampoo and Collagenesis Anti-Aging Hair & Scalp Treatment Conditioner. 
Both are formulated with botanically-derived collagen obtained from the Acacia plant for maximum hydration and moisture retention. Skinn's Shampoo also contains amino acids and minerals to condition and nourish the scalp, as well as chamomile and acai oil extracts to revitalize and smooth. Skinn's conditioner also contains rice protein to increase the feel and appearance of hair's strength and flexibility, as well as coconut and argan oil to tame frizz and minimize the appearance of breakage.
Further reading: Hair Thinning and Breakage Grew 50% in the Last Decade 
Battling Frizz
The brand also has launched Skinn's Colalgenesis Seal & Shine Cuticle Smoothing Spray. Formulated with a complex of acacia collagen, fruit acids and green tea extract, Skinn's Cuticle Smoothing Spray is also infused with anti-aging actives to seal and smooth the appearance of hair cuticles. Skinn's Collagenesis Scalp Revitalizer – Volumizing Treatment Serum is concentrated with rice protein to help boost dull, dehydrated and lackluster hair. It's also enriched with a blend of antioxidants, amino acids, mineral and botanical extracts.