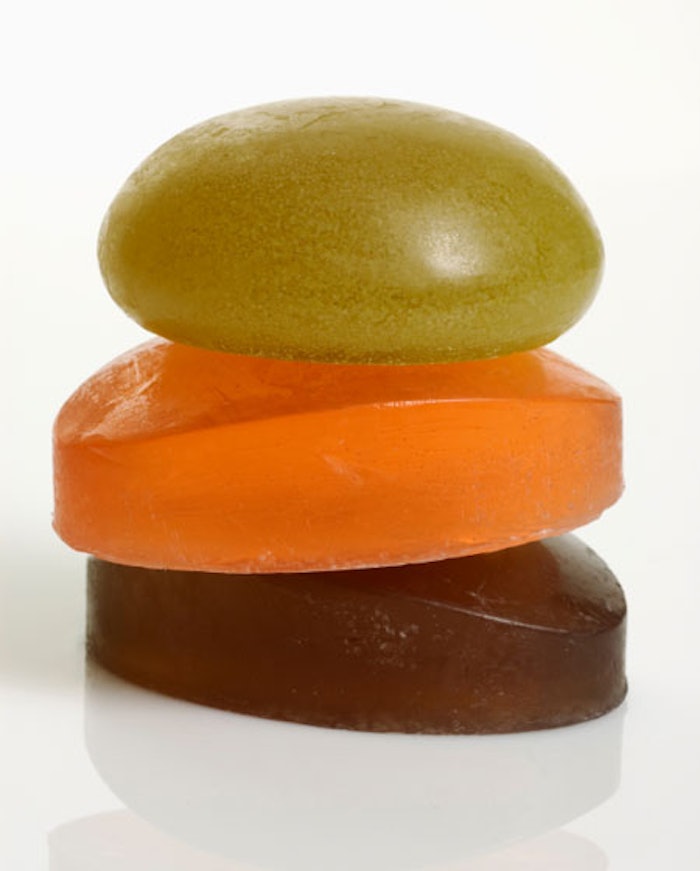 In the bar soap segment of the beauty market, one might not expect to find many ups and downs. Given the recent recession and its continuing rippling effects, however, even bar soap has seen its share of changes in the past few years. In contrast to other industry segments though, principles with Vermont-based bar soap manufacturer Twincraft, Jim Howard and Barbara Devine, share that bar soap appears to have benefited from the recession in more ways than one.
"In one sense, the recession was really a boon to bar soaps because we saw a lot of consumers going back to basics, and that meant bar soaps. Bar soap is something many people perceive as a better value because they can get more usage out of a single bar," says Devine, Twincraft's director of marketing. "But to entice those customers back in and have them stick with soap, you have to hook them and tell them your story all over again." Consumers are obviously more likely to continue buying a product they positive associations with, so Devine notes that, once people again began using bar soap, manufacturers needed to keep that positive dialog going.
"It's about staying competitive in terms of what your soap offers," Devine continues. "Consumers are looking for the whole story—a treatment, from cleansing to exfoliating to moisturizing and beyond. And it's a challenge to stay innovative and maintain a competitive price point. A lot of companies are facing more and more savvy consumers who are demanding more for their dollars, and therefore more from their products."
And this is where the bar soap segment is rebuilding itself to match—and even exceed—today's consumer expectations. "What we've been seeing is a shift in where consumers buy their products," says Howard, vice president of sales and marketing with Twincraft. "With the change in the economy, more consumers are spending more time in the FDM (food, drug, mass) channel and less in specialty skin care stores and higher-end department stores when buying their products."
"From our end, there has been a massive focus from the FDM stores to develop their own private label store brands," Howard continues. "As a result of the recession, consumers began shifting to using these store brands for their better price points, and then found they liked them. This has encouraged the FDM lines to want to innovate to keep these consumers interested and retain them."
Devine goes on to explain, "FDMs now offering a national brand equivalent (NBE) product are improving upon those with national brand better (NBB) products," says Devine. "And as these lines get better, consumer loyalty increases, which allows FDMs to further expand their NBB bar soap lines with better ingredients and aesthetic elements."
Ingredients and Aesthetics
To keep consumers interested in FDM private label lines, more companies are innovating within their own lines. Howard explains, "Bar soaps and their formulations are now really focusing on delivering that multifunctionality, giving consumers more reasons to pick them up off the shelf. FDM stores are littered with literally dozens of SKUs when it comes to soap, so you need something that not only will get a consumer to pick it up off the shelf, but also come back for it again and again. Innovation in terms of formulation, aesthetics and packaging is essential in that regard. You want the consumer to be able to sniff that bar to get the scent, see the bar to experience the aesthetics, and in many cases this needs to be done through innovative packaging."
Interesting ingredients continue to pique consumer interest, as well as that of the formulators and even manufacturers. "We've put everything from aloe vera to oat bran in our formulations," says Devine. "Consumers are always looking for something interesting, something different, and while that always makes our job challenging, it also makes it fun." Sustainability is also a buzzword in the bar soap segment. "In response to the organic and natural trends, manufacturers are exploring more natural soap bases and ingredients that have been sourced sustainably, including fragrances," says Howard. "There's also been development of recyclable and biodegradable packaging. We're always looking at ways to offer brands more socially conscious choices as that is what is being driven by the consumer."
"We're even seeing small growth in bar soap for babies, because it's very natural, so parents don't have to worry about preservatives or parabens," says Devine. "Bar soaps aren't the same as they were 20 years ago. Now they can offer a much more positive experience for their audience."
"People want their bar soap to have it all," she continues. "Something in just pretty packaging isn't going to cut it—it needs to have a nice fragrance, exfoliate, moisturize, have sustainable ingredients and tell an engaging story in order to grab the consumers' attention."
Continuing the Trend
As the economy continues its climb back toward post-recession level, Howard and Devine note that some backslide to national brands will likely be inevitable. The maintaining a state of increased consumers interest—as well as increased innovation and satisfaction with FDM private label bar soap lines—is current goal for manufacturers.
"Providing innovative solutions that reach the shelf via price points that are enticing to the consumer is always a challenge, but you need to continue to be innovative in order to stay viable in the marketplace," says Howard. "It's also important to look at innovation in terms of business processes—we're always looking to improve in that regard and reduce any additional costs out of the supply chain that can then be passed along down to our customers and their consumers."
That maintenance of a healthy, consumer-friendly business model is only benefiting bar soap at this point. "There is a healthy development across the board in bar soap these days," says Howard. "That wasn't the case three years ago, and now some of the larger brand owners are even beginning to investigate bar soap again."
Rebuilt and Better
The trend of FDM stores innovating and promoting their own private label lines has also began to spill over into other industry segments."More consumers deciding to spend more of their dollars in the FDM market segment also encourages FDM stores to increase their presence in other categories," says Howard. Twincraft has FDM growth in other personal care products categories as well, notably lotions, hair products and even liquid soaps.
Because, when seeking out quality, consumers will take it wherever they can find it—proven by the increase in bar soap sales during the past few years. "People are willing to spend the money," Devine says, "but you have to give them a product that works."