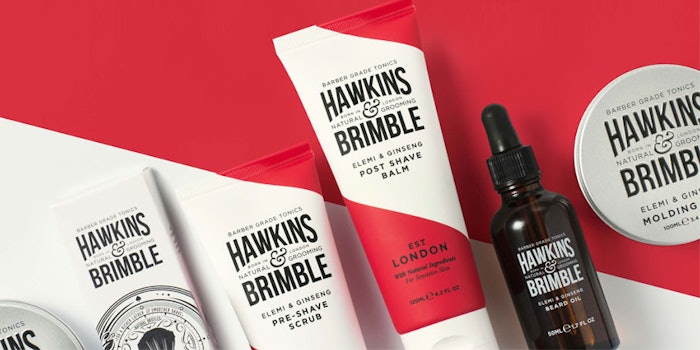 Packaging design and branding company, Design Happy, has launched men's grooming brand Hawkins & Brimble. The brand was designed to evoke the natural qualities of barber tonics of old with a modern twist.
"The approach was to appeal to a more premium market with a focus on modern effortless grooming, using inspiration from simpler days to formulate the basis for the naming, ingredients and brand," explained Richard Bray, design partner at Design Happy. "For the branding itself, we developed a bespoke typography style based on beautiful vintage barber signage and branded stamps to give the brand a sense of heritage and efficacy."
The brand features shaving products and gifts, such as beard oil, pre-shave balm, traditional metal safety razors and leather flasks.
Since the launch of Hawkins & Brimble in November 2016, the range has secured more than 15 online retail outlets and will be rolling out to Etos stores across Europe.