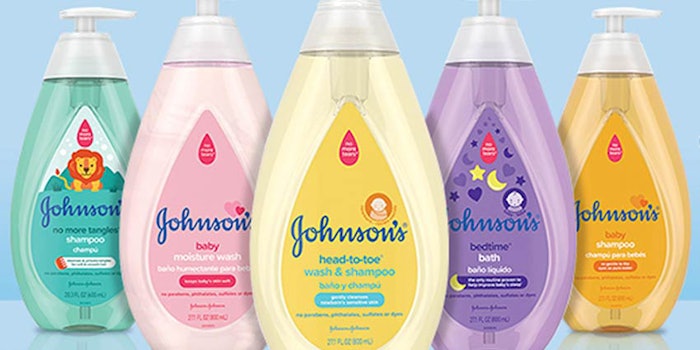 Johnson's has announced a complete overhaul of its baby washes, lotions and hair care products. Changes include:
More naturally derived ingredients—Now 96% of the ingredients in the company's leading products are naturally derived, such as soybean and coconut oil.
Fewer ingredients overall—Johnson's reduced its portfolio of ingredients by more than 50%; additionally, all products are free of parabens, phthalates, formaldehyde-releasing preservatives and sulfates. The company's signature Johnson's Baby Shampoo is no longer golden, but rather a clear formula in a translucent yellow bottle.
Full transparency—Johnson's will now share 100% of its ingredients, including fragrance.
Improved experience—Including creamier lather, shampoos with a quicker rinse, improved conditioning across the hair care range and light, fast-absorbing lotions with no unwanted residue.
Parent-friendly packaging—Products come in more ergonomic bottles, with 50% more pumps (enabling one-handed use).
Reduced environmental impact—The company prioritized ingredients that are not said to be harmful to aquatic life and ecosystems; more efficient processes will also reduce water usage at owned manufacturing sites by 20%.
Simplified supply chain—Simpler, more consistent manufacturing, packaging and formulations, allowing for greater flexibility across geographies to launch new products faster in the future.
A new product—CottonTouch wash and lotion, blended with real cotton.
"Nothing was sacred, but every decision was purposeful," said Deeptha Khanna, president of global baby care. "The result is a gentler, simpler product experience that's still 100% Johnson's, honoring our 124-year history while evolving for modern parents' preferences."
Sarita T. Finnie, senior director, U.S. baby care, added: "For this relaunch, we truly put parents at the center—listening to more than 26,000 parents from around the world—and paired their feedback with the latest science to improve our products inside and out. ... We will never stop raising the bar—both when it comes to advancing the science of baby skin care and in continuously evolving to meet the needs of every generation of parents."