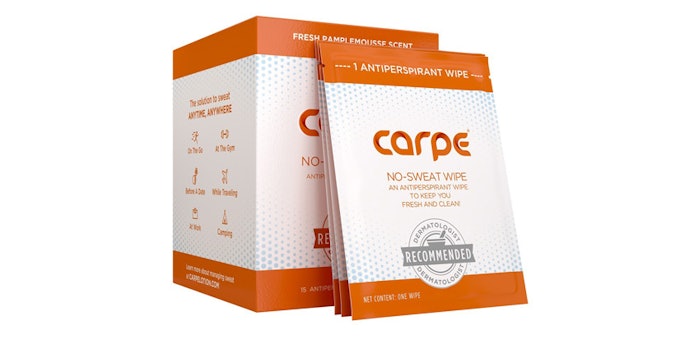 Antiperspirant company Carpe has announced the launch of its No-sweat Wipes. 
The wipes, which measure 10.5 inches by 9 inches, were created to deliver "a generous dose" of Carpe's pamplemousse-scented antiperspirant formula in an on-the-go format, the company explained. 
David Spratte, CEO of Carpe, said, "The antiperspirant wipes provide portable and versatile relief, and align with our goal to provide antiperspirant solutions for the whole body because people don't just sweat under their arms. This is the first of several innovations that we look forward to rolling out this year."
Spratte founded Carpe with his then college roommate, Kasper Kubica, as a way to combat hyperhidrosis, from which both men suffer. In addition to the No-sweat Wipes, Carpe offers a clinical-strength underarm antiperspirant and antiperspirant hand and foot lotions.

Kubica added, "Although we founded Carpe to create a solution for hyperhidrosis patients, we've since built a broad and diverse fan base. Today our products are enjoyed by business professionals, tennis players, joggers and more. We hope that our antiperspirant wipes provide one more way for all kinds of users to enjoy refreshing and reliable sweat protection."
Available on both CarpeLotion.com and Amazon.com, the wipes retail for $19.95.