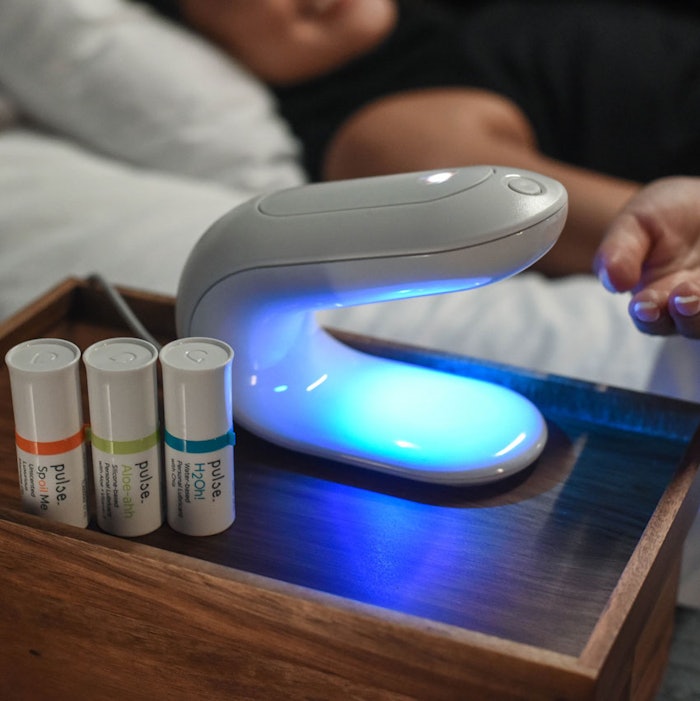 Pulse is a device designed for personal intimacy care to "modernize and transform consumer experience with liquid formulations, creams, oils, lotions and gels," according to the company.
Further reading: Voilà Intimate Mood Oil Offers 5 Lubricants to Match Women's Needs
Pulse is an automatic, touchless dispensing device that eliminates messes with its Pulse Pod formulations that are interchangeable within the dispenser. The products are safely warmed to a comfortable temperature for easier application and better absorption.
The patented "closed delivery system" technology prevents contamination when interchanging the Pods. A light indicates to the user when the Pod is warmed, empty, has one serving left or when the device is locked.
Three formulations in the collection include:
Aloe-ahh: Silicon-based lubricant with aloe and vitamin E
H2Oh!: Natural water-based lubricant with pure chia extract
Spoil Me: Natural massage oil with blend of six plant-based oils
Formulations are:
Healthy premium quality and made with medical grade ingredients
Paraben-free
Phthalate-free
Vegan
Unscented
Hypoallergenic
Hydrating and soothing
Issues FDA clearances
The Pulse device is $199 and the Pulse Pod six-pack is $29.99.
Amy Buckalter, founder and CEO, said: 
I was using personal lubricants during sexual intimacy to ease my pain and discomfort due to
menopausal vaginal dryness. Lubricants are the No. 1 non-hormonal physician recommended solution for the more than 31 million women entering menopause every year. Frustrated and dissatisfied with the outdated clinical experience of a cold, messy, and unhygienic tube or bottle, and products that included unhealthy ingredients, I was compelled to create a modern and transformational solution.
Pulse and Pulse Pods deliver an exceptional consumer experience for women and men who desire comfortable intimacy, a seamless connection with their partner, and an improved quality of life.