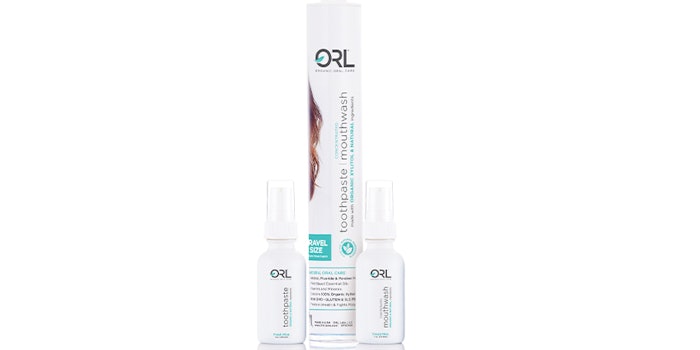 ORL has launched a travel set that features the brand's 7.0 pH-balanced Fresh Mint toothpaste and mouthwash.
Previously: Plus Ultra's Biodegradable Replacement Brush Head
The travel set is available on ORL's website, Amazon and select U.S. retail partners. Its pricepoint makes the brand accessible to those curious about the brand's offerings.
The TSA-friendly sized products are packaged in recyclable 1 oz glass bottles. The mouthwash concentrate lasts for more than 20 days. 
ORL's proprietary formulation includes organic xylitol, plant-based essential oils, vitamins and minerals. 
Howard Kaufman, CEO ORL, said: "Our customers have spoken, and we have delivered. This travel set delivers all the benefits our customers and retail partners know and love, in easy-to-use, eco-friendly sizes. ORL stands to our commitment to including the best natural and organic ingredients free from over 100 harmful ingredients found across many national brands in recyclable packaging. Our team is committed to continually improving the customer experience."