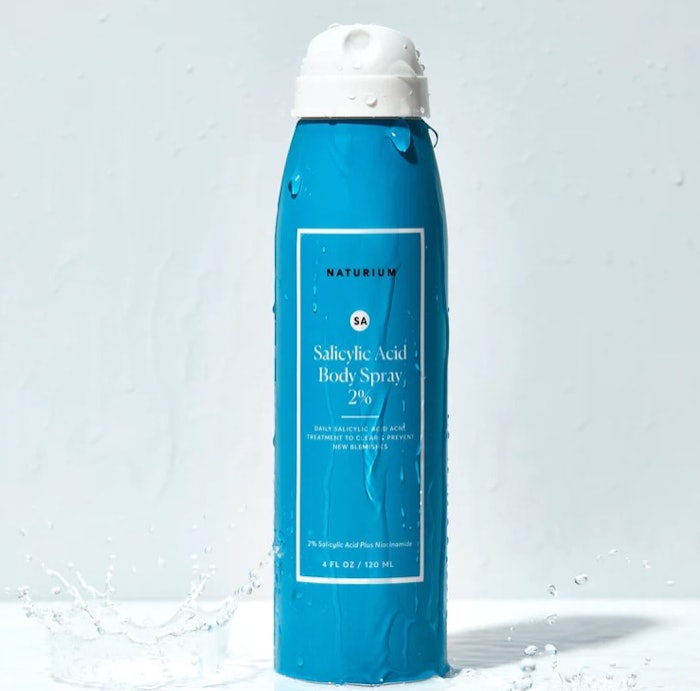 Naturium has added to its acne range, launching its Salicylic Acid 2% Body Spray, which penetrates pores and treats and prevents blemishes. 
Previously: Oxy Skin Care Acne Treatments Now Dermatologist-recommended
Formulated with an encapsulated 2% salicylic acid and niacinamide complex, this blend clears skin and fights breakouts while working to even skin tone and texture.
The encapsulated salicylic acid and niacinamide reduce sebum and oil production the skin. They also help to reduce irritation caused by clogged pores or acne, per the brand. 
Additionally, the Salicylic Acid 2% Body Spray contains a brightening blend to aid with dark spots and discoloration, as well as a microbiome-supporting fermented complex to promote a healthy and strengthened skin barrier.
The microbiome-supporting fermented complex promotes a healthy/strengthened skin barrier function, while boosting hydration and overall skin health.
The brightening blend includes hydrolyzed oat protein, ethyl ascorbic acid, alpha-arbutin to help brighten skin and improve clarity, for healthier-looking skin. The blend also reduces dullness and helps with dark spots and discoloration. 
The Naturium Salicylic Acid 2% Body Spray is also alcohol-free and suitable for all skin types. 
The formulation can be paired with other Naturium products to generate anti-acne routines.
The brand's products are sold at its own website, as well as Target.