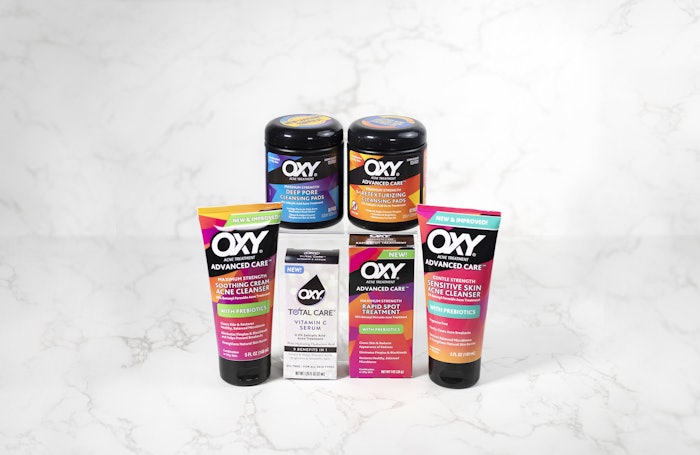 Oxy Skin Care's entire line of acne treatments is now dermatologist-recommended and delivers gentle & soothing skin care.
Amid the pandemic, consumers are showing more interest in clinical brands, which account for 34% of skin care category sales in the United States, per 2022 NPD data.
About the range:
The Oxy Advanced Care with Prebiotics line is formulated with micronized benzoyl peroxide to reduce acne lesions caused by C. acnes without disrupting or causing an imbalance in the other bacterial species on the skin, per the brand.
Oxy's 

Advanced Care Rapid Spot Treatment with Prebiotics reportedly works up to six times faster than previous product iterations and is appropriate for all skin tones.

Oxy's Cleansing Acne Pads comprise salicylic acid to unclog pores, exfoliate skin and treat and help prevent acne to allow skin to heal.
Oxy's  Total Care features hyaluronic acid and acne medications to eliminate acne and smooth and hydrate the skin.
The treatments retail at Walmart, Walgreens, CVS, Rite-Aid and Kroger, OXYSkincare.com, Amazon.com and FSAStore.com.