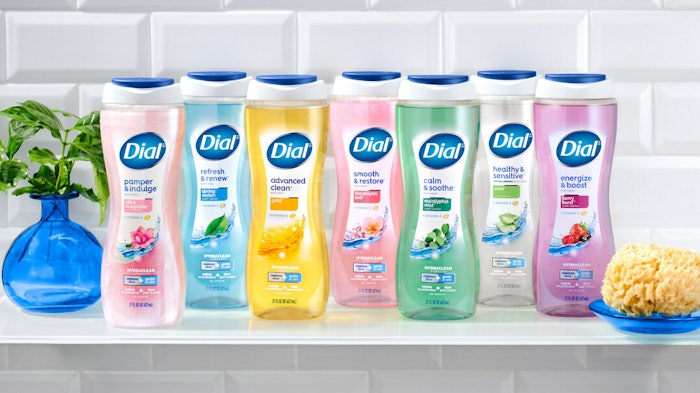 Dial is celebrating its 75th anniversary by relaunching its 15-product body wash range with pH-balanced formulas featuring the Hydraclean Complex, comprising vitamin E. The washes are cruelty-free under the Leaping Bunny program. In addition, the upgraded 16 oz and 21 oz body wash packaging is made from 100% recycled plastic in new ergonomically improved bottles.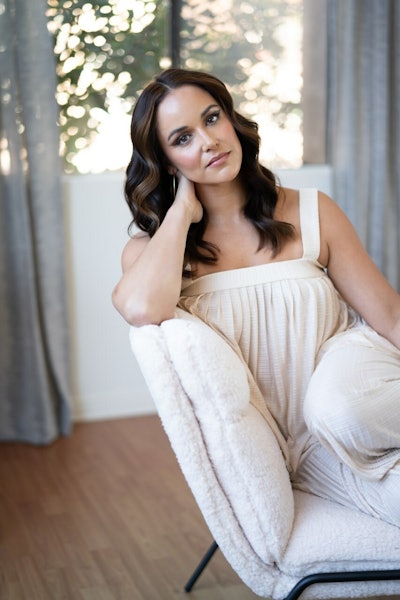 Two new body wash scents, Calm & Soothe Eucalyptus Mist and Energize & Boost, were developed based on insights that evaluated whether consumers showered in the morning or at night, and the benefits they seek.
The other SKUs in the range include:
Berry Burst Dial
Refresh & Renew Spring Water
Pamper & Indulge Silk & Magnolia
Pamper & Indulge Marula Oil
Calm & Soothe Lavender Jasmine
Refresh & Renew Coconut Water
Pamper & Indulge Silk & Seaberry
Healthy & Sensitive Aloe
Smooth & Restore Himalayan Sea Salt
Advanced Clean Gold
Pamper & Indulge Manuka Honey
Smooth & Restore Sea Minerals
Healthy & Sensitive Waterlily
Advanced Clean Apple Blossom
Dial's bar soap portfolio has also been revamped with Leaping Bunny-approved formulations.
Report: The Bath & Body Boom Decoded
Furthermore, the brand says its formulations feature sustainable and ethically produced palm oil.
"At Dial, we are committed to evolving our products to meet the needs of today's consumer," said Vildan Oenpeker-Cerci, senior vice president marketing North America. "The enhancement of our body washes, featuring improved packaging and advanced formulations, help consumers 'Dial Up' to be their best selves mentally, and physically. Now with 100% recycled packaging and Hydraclean Complex, our new body washes cleanse deep while being gentle on skin, leaving it feeling healthy and renewed. We are proud to be leading the way in creating a more sustainable future for generations to come while providing the highest quality products. Our goal is to help our consumers feel confident and ready to conquer anything."
The launch is accompanied by the "Dial Up Your Day" campaign, featuring actor/director Melissa Fumero.
"I am excited to partner with Dial on their #DialUpYourDay campaign and new body wash products," said Fumero. "What this campaign stands for, taking care of ourselves mentally, physically and emotionally, is something I really believe in. It is important to me to help spread this message of taking care of yourself, even in the smallest ways, and find those special moments where you can Dial Up Your Day."
"We are thrilled to be working with Melissa as our #DialUpYourDay partner!" said Oenpeker-Cerci. "She is someone who identifies with our consumer base and appeals to those who might not always put themselves first. We look forward to working with Melissa and having her continue to spread the word about how she 'Dial's Up' and hopefully encourage others to do the same!"