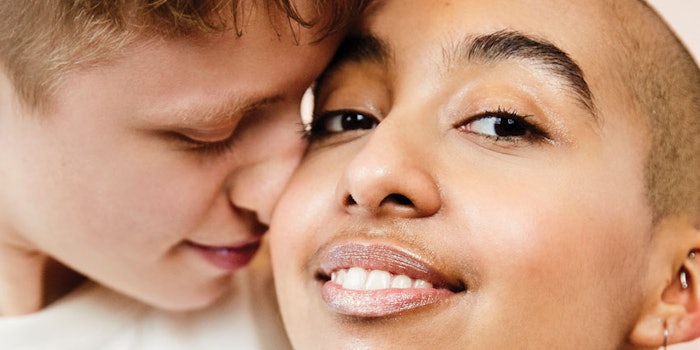 When CK One launched in 1994, it was truly groundbreaking: a unisex, citrus-infused fragrance that was directed to, and wildly popular with, both men and women. At the height of its mid-1990s popularity, this single scent earned about $90 million annuallya for the brand and is still beloved by its loyal fans today.
Fast forward 25 years to 2019, and more and more beauty brands are launching products designed to encompass all genders: cisgender men and women (as in, those who identify with their birth sex), and those who identify anywhere along the gender spectrum (or identify with no gender whatsoever).
And it's not just fragrance making headlines this time around, nor is it traditional, upscale men's groomingb. Today, even color cosmetics, foundations, concealers and more are finding their niches outside the long-held target market of cisgender womenc.
Isabella Giancarlo, CCO of inclusive cosmetics company Fluided, says, "With Fluide, we wanted to create a space where you can throw all your preconceived notions of what makeup is supposed to look like—and who it's for—out the window, and give people space to let makeup be one tool in tapping into a self that feels right to you."
Gen Z, Beauty & Self Definition
The primary driver of inclusive beauty is one of the youngest and most powerful groups of consumers: the post-millennial Generation Z. Now in their teens and early 20s, Generation Z is committed to self-expression, authenticity and individuality. These young people have more freedom and opportunities to define themselves than ever before and therefore want their outward appearance to reflect who they are on the inside.
"I was really inspired by my experience as a parent of Gen Z teens and the activism of this generation with regard to LGBTQ+ and gender identity issues," says Laura Kraber, CEO of Fluide. "As much as kids today are into makeup, it was shocking that there was no cosmetics brand that embraced gender fluidity and queer beauty. I wanted to create Fluide to represent and reflect the diverse identities of teenagers today, support their self-expression, and offer an authentic, inclusive beauty brand to an audience hungry for new representations of beauty."
Inclusive Product Design
According to Kraber, formulating color cosmetics for all genders hasn't been difficult, as she finds customers' product needs to be more similar than different.
"One of our primary concerns when developing products is pigmentation, as we want to ensure high-impact pigmentation on all people regardless of skin tone," says Kraber. "Two other areas of focus in our product development process are durability and flexibility, as our customers are looking for formulas that are versatile and long lasting and can be used in a variety of ways."
Among Fluide's many multipurpose products is the liquid lipstick, which is eye-safe as well.
Kraber adds, "A swipe of a silver lipstick is a quick way to transform your look, but like some of our customers, if you have time and a vision, you can create a whole galaxy look on your eyelids."
Want to read the full article? Check out the July/August 2019 digital edition of Global Cosmetic Industry magazine.