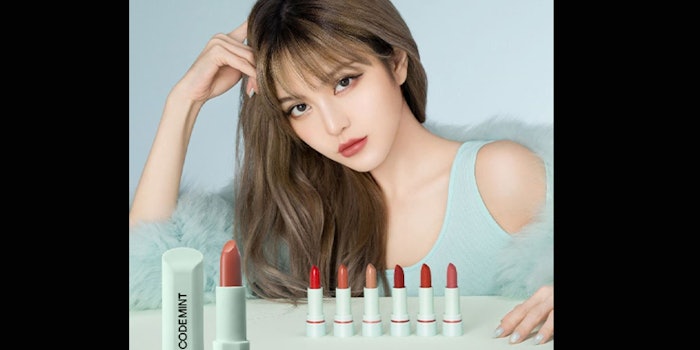 Grace Chow, an influencer with more than 2 million Instagram followers, has launched her own beauty line called Code Mint Beauty, available on China's shopping site, Tmall.
Related: Selling Beauty & Personal Care in China
Update: Chow has previously worked on collaborations with Charlotte Tilbury, Urban Decay, Givenchy and Olay. Now, Chow has launched her own blue beauty brand with products that are clean and cruelty-free.
Code Mint promotes a 666 philosophy that emphasizes the elimination of 66 toxic and hazardous ingredients, such as oxybenzone. The philosophy also includes the addition of six nutrients that have anti-aging and anti-inflammatory properties. 
Code Mint is now available at TMall and will launch in the United States in the later part of 2021.
The collection launched a nine pan eyeshadow palette with grounded matte texture, marbleized cream, shimmers and heavy-glitter metallics as well as six lipsticks, ranging from pinks and nudes to deep berry shades available in matte and satin finishes.
It also launched two blushes and two jelly highlighters with pore minimizing effects and smooth shimmers that sold out according to Chow's Instagram.