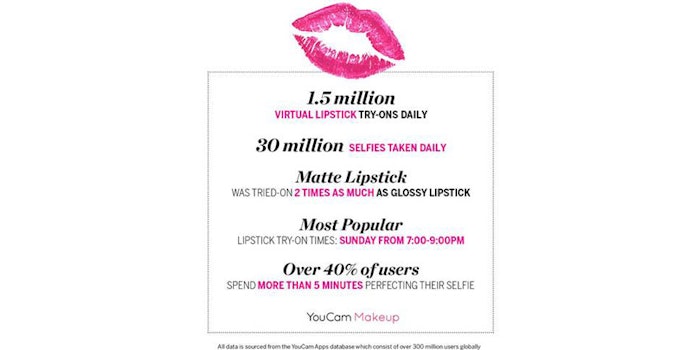 "Selfie" may have been the Oxford Dictionary's word of the year back in 2013, but in 2016 the actual act of taking a selfie has become a regular part of a daily routine of for millions of people around the world. According to a new study conducted by Perfect Corp., there are 30 million selfies taken every day and more than 40% of users spend at least five minutes perfecting their selfie.
The study includes information that was gathered by Perfect Corp.'s beauty apps, YouCam Apps (YouCam Makeup, YouCam Perfect, YouCam Nails and YouCam Fun) and gives insight to the behaviors, motivations and personalities behind the selfie culture.
12 Selfie Personas
My Squad
Funny Face
Family
Party Girl
Gen Z
Girl Power
Animal Lover
Forever Young
Flirty
Vacationer
Dare Devil
Romantic
Selfie Insights
Members of Generation Z (those born between 1996-2010) share 40% fewer selfies than Millennials
My Squad selfie takers snap four times as many selfies as the average YouCam user
Wednesday night is the most popular time to post a selfie for the Party Girl type, more so than any other user group
10% of the Animal Lover group have tried makeup filters on their pets
Vacationers make the least amount of edits and use the popular moniker #nofilterneeded
Those in the Romantic selfie group take the most on Sunday
With brands and users adjusting to the digital impact on the beauty world, the increase of virtual try-on apps usage is a telling sign that consumers want to have the option to virtually try out products during the selection process. Millennials aren't shy about showing off their love off lipstick either. The study revealed the correlation between the two.
Lipstick has the most daily try-ons with 1.5 million
The most popular to try on lipsticks in Sunday 7-9pm
Women try on matte lipstick two times more than glossy textures
Red lip colors are popular across the entire U.S.
"Our new study supports Perfect Corp.'s mission to help users discover endless beauty inspiration and express themselves through the art of selfie-taking, no matter their persona," says Alice Chang, founder and CEO of Perfect Corp. "We are thrilled that over 350 million people have used our apps for exactly that and are proud to be the number one interactive beauty platform, offering a unique and comprehensive journey."
For the full report visit: www.perfectcorp.com