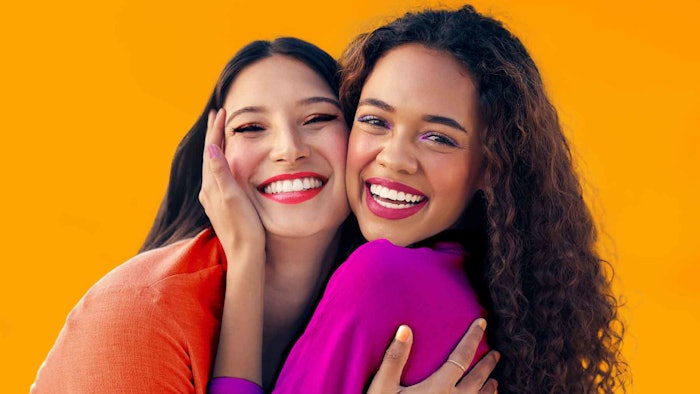 Sun Chemicals' SunPrizma color-travel range and metallic silver Reflecks Dimensions Platinum G13CD debuted at in-cosmetics Global, where the company also featured its recently launched SunPuro Naturals range. These products, along with two chromatic orange effect pigments, will be featured at the New York SCC Suppliers' Day, to be held May 2 and 3, 2023, in NYC.
See related: Red Tape and Golden Opportunities in Natural Cosmetic Colorants, Part I
Color-travel Effect Pigments
The SunPRIZMA (INCI: Varies) range includes 11 silica-based color travel effect pigments. Offered in two particle size ranges, the pigments offer high coverage and multi-chrome effects for intense, bold looks and glittering color-travel for striking sparkle finishes. According to the company, the pigments enable formulators to create chromatic color shifts with extraordinary effects in color cosmetics. 
Metallic Silver Sparkle
Reflecks Dimensions Platinum G13CD (INCI: Not Provided) is described as a silver, sparkling, metallic-like effect pigment based on borosilicate. The product is a new addition to the blackened effect pigment line, created by a patented technology that embeds the absorption colorant into the coating layers. This reportedly allows formulators to simplify their product development and accelerate commercialization timelines.
Natural Colorants
SunPURO Naturals (INCI: Varies) is a recently launched line of six plant-derived natural colorants and functional ingredients. The products are said to strike a balance between responsibility and naturality, offering conscious color and purposeful products designed for today's beauty needs. The line includes two orange-red products from responsibly sourced annatto, two traceable green chlorophyll ingredients, an upcycled black colorant from coconut shell waste and a responsibly sourced milky opacifier. 
See related: Red Tape and Golden Opportunities in Natural Cosmetic Colorants, Part II
Orange Metallic
Adding to the Flamenco Summit family of high chroma interference effect pigments is Flamenco Summit Orange O80D (INCI: Not Provided). The bright new orange interference effect pigment is based on 100% U.S.-sourced mica and offers a high, clean chroma and reflectivity.
Reflecks Dimensions Metallic Orange GO90D (INCI: Not Provided) is also a bold, orange metallic effect pigment. Based on borosilicate flake, it offers intense chroma and a dazzling sparkle, per the company.