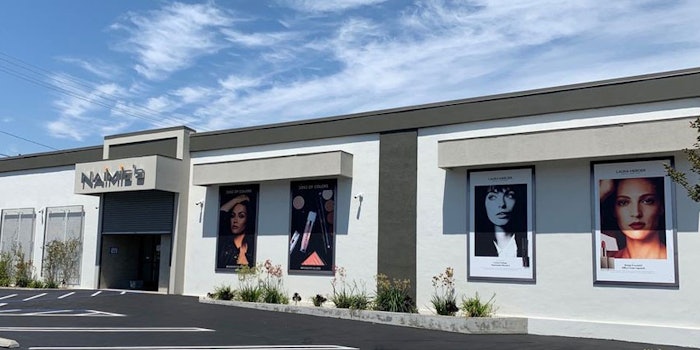 A diverse group of savvy women has depended on Naimie's Beauty Center for more than 30 years, and continue to stop in for some socially distanced browsing, to enjoy our colors and textures and a sense of normalcy. They are also buying online now more than ever. Naimie's is always staying up to date with the latest beauty trends and making sure each customer's needs are met.
Mass culture has shifted what people are looking for and buying and I was able to speak with Naimies' senior account manager, Nicole Fischer, for the inside scoop on how the Los Angeles beauty retail favorite is navigating COVID-19.
                                                                                                        Nicole Fischer
Nicole Fischer [NF]: Naimie's is frequented by the clientele we have cultivated over the last 30 years. We have locals from within our own neighborhood, as well as professional makeup artists and hairdressers. There are two locations for our customers, but due to the COVID pandemic, only one has currently been reopened.
Where do they get their inspiration and information?                                                              
[NF]: Our professionals including makeup artists and hair stylists get their inspiration from their training. They always know what they want, and they can be guided by client requests.
Consumers want to be informed, and they usually gravitate toward brands that have news like Huda and Dose of Colors. Their favorite brands inform them of what the trends are, utilizing marketing strategies that appeal to consumers while demonstrating useful information.
More and more consumers are telling us they don't listen to any one celebrity or influencer because one size doesn't fit all. Brands, however, address everyone's needs.
I love working with our brands. They post new products, how-tos, and cross promote their brands with our stores. Naimie's doesn't use influencers, but we have amazing brands and our influential shoppers to do the social networking.
What do you do to try to reach them?
[NF]: Naimie's does their own social media. Our staff is great because they're all professionally trained, and they have the passion for beauty and creating relationships with our customers. We are a friendly brick and mortar store and team-based, so word-of-mouth is the strongest way we can reach our shoppers and we learn so much from our customers.
What types of products do customers turn to Naimie's for?
[NF]: Since most consumers are concentrating on eyes, they are buying brow products like Anastasia and lash treatment like Grande Lash. We typically see customers going for concealers, which remains strong and foundation.
​A lot of customers are trying to find effective skin care products that work as efficiently as possible, like leave-on skin care that works while they sleep or while they are doing something else. SilcSkin offers décolleté pads that work while our customers are doing literally anything else, making any downtime the time for self-care.
We also have a selection of hard working hair care products. We are seeing an uptick of consumers asking for hair loss solutions. We believe it's due to stress.
How does Naimie's influence shopping trends?
[NF]: Naimie's follows and listens to our customers. We have strong relationships with our vendor reps. We rely on them for samples and a lot of training.
How has COVID changed your business?
[NF]: With brands, we are picky about who we partner with at Naimie's. They have to give us samples for staff to play with it, because our educated and experienced staff is every brand's biggest critic. They know what our customers like, and most of our staff know our particular clientele because they've been with Naimie's for 15 years and some have stayed for 30-plus years.
What is Naimie's doing to navigate the new normal?
[NF]: We are doing everything with enthusiasm relying a lot on online sales with curbside pickup, register pickup, shipping and so much more. Whatever the customer is comfortable with, we are going to do.
What do you look for from your brands?
[NF]: We look for samples, education and support.
How can brands better support you and better succeed?
[NF]: We need to be educated on the brands. Vendor reps have to educate the staff on the products and give them samples, as well. Our staff has to be knowledgeable and comfortable in order to move forward with a brand. The brands have to include us in their online store locator and within their social media posts.
Is there anything that you are looking for?
[NF]: Since COVID, there has been a downward trend of purchasing in-store. We are currently not bringing in any new brands. But you never know when there will be a new trend that might make us more willing to include new and exciting brands. We're also looking for brands that complement the needs of the COVID consumer by giving them the ability to use our products in a way that can maximize their time working, like leave-on skin care products from SilcSkin.
What surprises has COVID brought you good and bad?
[NF]: Our foot traffic slowed down, but the online traffic and sales picked up a bit.
Does Naimie's have plans for growth?  If so, what?
[NF]: We are all staying optimistic. However, there are so many brands and retailers that won't come back right now. We are in a 'wait and see' mode for the time being, but we're looking forward to an eventual return.
Who do you think are the most influential celebrities on your customers?
[NF]: Consumers' purchases are only partially influenced by celebrities or influencers. Most purchases are made by their own personal needs and wants, because one size doesn't fit all. Brands, however, address everyone's needs.
Nancy Trent (http://www.trentandfcompany.com; mailto:nancy@trentandcompany) is a writer and speaker, a lifelong wellness activist, a globe-trotting trend watcher, and the founder and president of Trent & Company, the leading wellness PR firm. Trent & Company, which launched many health and beauty brands, grew out of Nancy's personal and passionate commitment to helping people live longer and healthier lives. A former journalist for New York magazine, Nancy has written seven books on healthy lifestyles, serves on the editorial boards of several magazines and travels around the world speaking at conferences and trade shows on trends in the marketplace. She is a recognized expert in PR with more than 30 years of experience creating and managing highly successful campaigns.