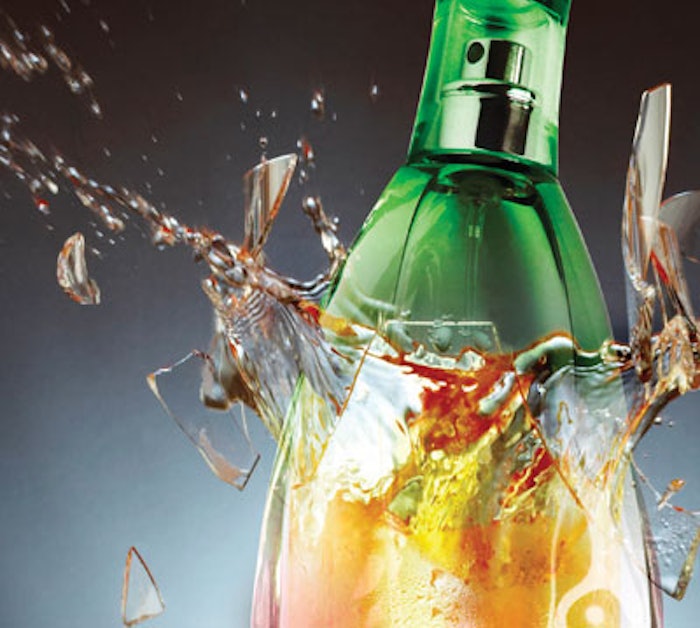 In the U.K., the celebrity trend is still thriving, and celebrity fragrances are set to drive growth in that market over the medium term.
This interest in niche fragrances is developing as a backlash against the commoditization of fragrances and the explosion of celebrity perfumes.
The use of body sprays has become more prevalent during the global downturn.
In Latin America, which propped up global fragrance growth, men's mass fragrances grew 18%.
Private label's share of the fragrance segment is expected to remain marginal.
The fragrance segment's position as a discretionary category meant it was inevitably going to be hit during the economic downturn. While consumers still need to bathe and clean their teeth, resulting in relatively consistent growth rates for bath and oral care, fragrances were far more at the mercy of consumer whims. According to Euromonitor International, global fragrance growth slipped one percentage point to 4% in 2009.
However, even before the onset of the recession there were cracks appearing within the industry—value growth had already fallen from 7% in 2007 to 5% in 2008. Could it be that the recession is, in fact, the least of the segment's worries?
Market Saturation; Consumer Apathy Take Toll
As consumers opted to cut their spending on fragrances, many brand owners have carefully chosen lower risk strategies for new product innovations. Brand extensions accounted for the bulk of new launches in 2009 and continue to do so in 2010. Extensions remain a popular way for brand owners to introduce new fragrances requiring less risk and marketing spend compared with launching a totally new brand.
But how will this tactic affect the segment in the long term? Some suggestions from within the fragrance sector indicate the vast number of new fragrance launches and increasingly crowded marketplace will actually damage the industry over the longer term. The saturated scent market arguably has contributed to consumer confusion and apathy, making it very difficult for a brand to stand out.
Has Celebrity Trend Peaked in Some Markets?
Celebrity fragrance launches show no sign of abating. In the U.S., a new crop of A-list stars just put their names to new fragrances, and high-caliber U.S. stars are still queuing up to launch their own perfumes, suggesting the trend is far from over. In 2010, Halle Berry's Pure Orchid and Avon's Eternal Magic, a collaboration with Avatar's star Zoe Saldana, are among the notable celebrity fragrance launches.
Despite the ongoing launches, however, the celebrity trend now seems to have peaked in some major markets. Over 2009–2010, the U.S. saw weaker demand for celebrity fragrances. These fragrances tend to appeal to young women who seek out these products to connect with their idols, and the products, therefore, typically have a very short shelf life as young consumers are quick to move on to the next hot star.
In the U.K., however, the celebrity trend is still thriving. Celebrity fragrances are set to drive growth over the medium term, particularly in mass women's fragrances as the U.K.'s celebrity magazine and "WAG" (wives and girlfriends of footballers) culture remain pervasive.
Niche; Exclusive Launches May Help Segment
Despite the under performing global economy, there are still high-income perfume connoisseurs, typically older and more affluent consumers who are willing to spend more than $100 on a bottle of perfume. This interest in niche fragrances is developing as a backlash against the commoditization of fragrances and explosion of celebrity perfumes. Companies such as Bond No. 9 and L'Artisan Parfumeur have successfully tapped into this demand with super high-end scent launches. In the U.K. market, Dior launched a limited edition version of J'adore exclusively in Selfridges in November 2009. The product, priced at £700, was part of Selfridges' centenary celebration.
Limited Edition Scents and Smaller Sizes
A common tactic employed by fragrance brands to drive sales is the introduction of limited edition or collectible fragrances. Gwen Stefani's Japanese-inspired Harajuku Lovers perfume dolls have spawned several additional limited edition ranges—the Snow Bunny collection in winter 2009 and the Sunshine Cuties range in summer 2010. The originality of the range and strong appeal to tween and teen consumers have helped it gain popularity in markets such as the U.K.
A number of premium fragrance companies tried to adapt to the downturn by offering smaller, and therefore more affordable, sizes as a way of providing consumers their preferred brand but at a lower price. For example, Estée Lauder brought out 30-mL and 50-mL bottles of Clinique Happy, which is normally sold in 100-mL bottles.
Deodorants/Body Sprays Profit from Market Saturation
In emerging markets, there is a penchant among low-income consumers for using body sprays as a less expensive substitute for fine fragrances. However, even in developed markets, the use of body sprays has become more prevalent during the global downturn as consumers opt for deodorants instead of fine fragrances—prompting 7% value growth in 2009, according to Euromonitor statistics, despite the economic slowdown. There seems to be a preference for the lighter scents offered by body sprays as the richer, more heavy perfumes have fallen somewhat out of fashion. Furthermore, although it is difficult to quantify, the vast array of scents on offer has arguably led to a backlash against fragrance purchasing. The sheer number of new launches means fragrance purchasing no longer feels special or exciting.
Major companies have recognized the opportunities offered by body sprays. In March 2010, Procter & Gamble announced the introduction of the Fresh Collection of deodorants, under the male-specific Old Spice brand name. The range is marketed as providing "fresh fragrances that are subtle and not overpowering."
The Markets Driving Global Growth
According to Euromonitor International, Western Europe remained the most valuable region for fragrances in 2009 with value sales of $13 billion, but stagnant growth in the region pulled down overall global growth. Likewise, North America was hit by a decline of 6% in 2009 due to consumer worries about jobs and the economy. Consumers continued to limit discretionary purchases and gift-giving, hurting sales of fragrances. Consumer apathy about the fragrance category in general, in addition to reduced consumer budgets, are the key factors behind sluggish growth in the region.
Latin America was the regional shining star, propping up global fragrance growth. The strongest growth (18%) was seen in mass men's fragrances, driven by the entrance of more young men into the workforce and the strong economic climate in the region—meaning men had higher disposable income and a need to look and smell good for work.
Eastern Europe was the region in which fragrance was the least resilient during the recession—growth was 3% in 2009, down from 11% the previous year. Although the category was far from being at the saturation point before the recession, many consumers had accumulated enough fine fragrances through previous purchases and were able to delay their next purchases. There was evidence in the region of trading down from premium to mass scents, as well as to smaller bottles.
Mass Fragrances Outperform Premium Scents
Global sales growth was poor in mature regions such as North America (-6%) and Western Europe (0%). Those markets are dominated by sales of premium scents, which account for 78% of total fragrance sales in North America in 2009, for example, but was boosted by strong growth in mass-dominated emerging regions, such as Latin America where disposable incomes rose. This led to overall growth of 4% globally in 2009.
There was little evidence of a trade down from premium to mass fragrances in Western regions. Despite the credit crunch occurring in Western Europe and North America, many consumers in Western regions are buying fragrances less frequently rather than trading down to less expensive brands. This is because mass scents also have a somewhat negative image among some consumers in many Western European markets.
Private Label Fails to Make Advances in Fragrance
There were unprecedented levels of private label penetration in many areas of the beauty industry in 2009. However, retail brands are yet to have an impact in scents. Despite the advances made by private label in other categories, private label's share of global fragrances remained at just 0.5% in 2009, according to Euromonitor. Private label is only really prevalent in North America and Western Europe, where premium scents dominate, and most consumers are unwilling to trade down to mass brands, let alone private label fragrances. Even in countries where private label's share is very high overall in beauty and personal care, such as Germany (12% in 2009), private label's share in fragrances is still far below its total beauty and personal care share, at just under 4%.
Fragrances are perceived in most countries as luxury goods and are expected to see little shift in distribution in the next few years. Private label's share of fragrances is expected to remain marginal, especially compared to other beauty categories, as consumers perceive fragrances as a little luxury, something not associated with private label products. Scents are still primarily bought as a gift or an aspirational product, meaning consumers are not comfortable buying inexpensive fragrances. There also is often a perceived lack of quality in private label scents.
In addition, there were further obstacles for private label scents in 2010. In a European Court of Justice ruling in May 2010, L'Oréal won the right to prevent the sale of fragrances that mimicked the scent of its high-end perfumes, including Trésor and Miracle. This is likely to dissuade future private label launches hoping to imitate high-end brands.
Outlook: Mass to Drive Global Sales; Sluggish Growth to Persist
Despite market and segment issues yet to be resolved, fragrances will remain one of the largest beauty categories globally, and $5 billion will be added to its global value size by 2014. Latin America alone will account for around 56% of this growth. Premium fragrances will continue to be more negatively impacted beyond 2010 than mass scents (2% compound annual value growth is predicted for the former 2009–2014 compared to 4% for the latter), driven mainly by the preference for mass scents in emerging regions and ongoing reductions in spending in the category in the West.
Carrie Lennard is a research analyst at Euromonitor International.