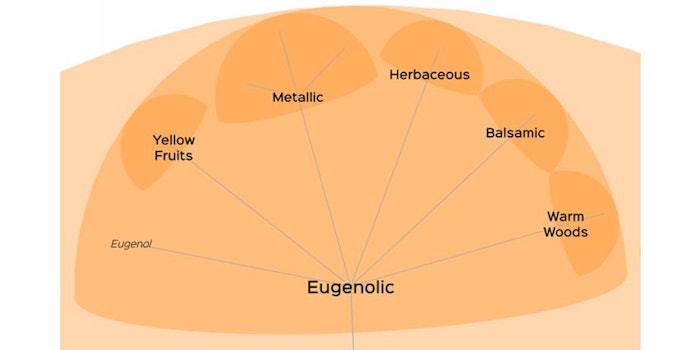 ScenTree, an interactive perfumery raw material classification tool, has launched its English version.
Industry resources: free Flavor & Fragrance Materials buyer's guide
Developed by Maxime Baud and Thomas Espinasse, former ISIPCA students, the tool features a visual "tree" linking various fragrance categories, descriptors and associated materials, including naturals and synthetics.
The method of information presentation is inspired by Lifemap, a classification for all species on Earth.
"ScenTree classifies perfumery raw materials according up to one family and four descriptors," the team notes. "The classification appears as a tree structure. Each semi-circle represents an olfactive family or descriptor ... [I]t is possible to zoom into the tree to discover what is hidden behind every olfactive family. Other semi-circles will [then] appear, corresponding to olfactive descriptors."
The group adds, "By zooming even more, the raw material's complete description is drawn. Up to four descriptors can describe raw materials' facets. The perfumery ingredients are found on every extremity of the tree. Then, it is possible to click on every raw materials [for more information.]"
Ingredient information includes synonyms, CAS# information, physico-chemical characteristics, associated chemistry data (synthesis, isomers, natural occurrence, etc…), regulatory notes, etc.
Natural materials feature information on technical characteristics, botanical surce(s), and notes on cultivation and extraction.
The tree's nodes include definitions of various terms. The map also features a search bar for finding raw materials.
The creators' goal is to eventually map 350 to 400 additional raw materials, launch a mobile app and gather industry notes regarding the various materials.
All sources for data are cited by the ScenTree map for full transparency.
Update: ScenTree has launched three articles on its website, in French and English, to help people understand the way the perfume industry works.