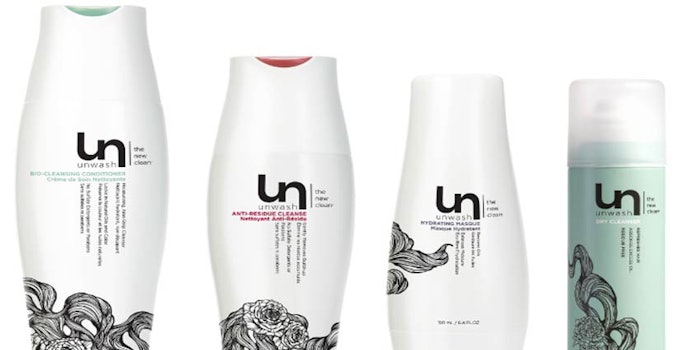 When it comes to hair care, "lather, rinse, repeat" doesn't cut it anymore, and it hasn't for quite some time. Consumers want true solutions to their hair dilemmas, and they want them in the form of eco-friendly ingredients, proven results and a spa-like experience upon delivery. That's not too much to ask of a brand, right?
Switching up the Steps
It can no longer be assumed that "shampoo first, conditioner second" is a given, due to two rapidly growing trends: reverse washing and co-washing. Reverse washing inverts the traditional hair care process, beginning with conditioning, followed by shampoo. The category saw a significant boost from the launch of the TRESemmé Beauty-Full Volume range.
Co-washing, meanwhile, is conditioner-only washing, skipping shampoo entirely. The trend has led to huge growth in clarifying conditioners, which accounted for less than 1% of conditioner sales as of 2014. Key launches in the co-washing segment include Ouidad's Curl Co-Wash, IGK Smoke & Mirrors Conditioning Cleansing Oil, Madam C.J. Walker Beauty Culture's Jamaican Black Castor & Murumuru Oils Ultra-Moisturizing Co-Wash, DevaCurl No-Poo and the Unwash brand, which recently debuted its Bio-Cleansing Conditioner, Anti-Residue Cleanse, Hydrating Masque and Dry Cleanser at Ulta.
At the time of the Unwash launch, the retailer noted, "With the launch at Ulta Beauty, Unwash is able to expand on their loyal following and provide easy access to the comprehensive co-washing collection, meeting the growing demand for this mainstream trending hair care category."
Both of these trends point to one key effect—the rising importance of conditioners. Indeed, according to Euromonitor International, conditioner sales grew by 5% in 2015 in the U.S., reaching sales of $2.4 billion.
Yet, even if they skip the shampoo, consumers still want to feel that their hair is just as clean—and that's where improved ingredients come into play.
"In co-wash hair cleansing formulations, the Endicare FB series can add richness to improve the low volume foam," said Shannon Smith Butz, Coast Southwest's technical director, surfactants. "Although we know 'bubbles' are not necessary to cleanse, consumers still associate bubbles with how well a cleanser works. By providing a rich foam in co-washing and even reverse washing products with less surfactant, we are able to meet the consumers' expectations while providing mild cleansing."
Consumers also expect that the co-washing and reverse washing will provide the same level of hair repair as before, or better. Earth Supplied Products offers Vegabead technology, created by Tycho Speaker, president of Capsulent.
"Patented Vegabead polyelectrolyte microcapsules actively target and selectively heal hair damage by re-sealing split-ends and smoothing lifted cuticles," explained Speaker. "Unlike synthetic polymers, which coat the entire hair like shellac, Vegabeads deposit only where they are needed. Healthy hair surfaces are left untouched and remain build-up free while damaged sites are repaired. Vegabead products are ideal for reverse-washing, and co-washing.  For several years, our test panel consumers have reported that our spray formulations were ideal for pre-poo treatments and frequently eliminated the need for any post-shampoo conditioning."
That Extra Something
It's not enough for hair care products to clean and condition the coif. They need to deliver added value, and specialty ingredients can ensure that a brand can offer consumers that je ne sais quoi. Biosil Technologies has responded to the emerging scalp therapy trend by providing hair care that delivers skin care as well via its PAE Complex line.
"The complexes contain phytic acid, aloe and a skin care active," said Philip Chung, vice president of sales, Biosil Technologies. "The idea is that the phytic acid exfoliates and better prepares the skin for both improved acceptance and delivery of skin care actives; PAE Complex Oil Control targets sebum reduction [in the scalp]."
And, while your customer base needs products that can heal internal hair damage, they equally need to protect hair from damage brought on by heat, color treatments and environmental damage.
"Color protection shampoos [that do not use] sulfated surfactants, yet deliver outstanding color protection and care performance, contain unique conditioning polymer technologies like Merquat 2003PR," said Malte Ruffing, Lubrizol's global marketing manager, hair care. "Thermal protection solutions with Merquat polymers, without the use of silicones, are shielding the hair from heat and provide great care performance."
Indeed, offering consumers a solution they can't find elsewhere will increase loyalty to your brand—especially if it really can deliver proven, long-lasting results.
"We see a lot of emphasis on hair health—not just cosmetic, temporary approaches to cover damage," said Speaker. "Consumers want real solutions that actually heal damage and keep it that way."
Plant-derived Promises
It's almost a given that any high-quality beauty good will be able to boast organic, responsibly sourced and/or plant-derived ingredients—and preferably, all of the above. When this can come from the powerhouse ingredients intrinsic to the functionality of the shampoo or conditioner, it's even better.
This year, Ajinomoto North America launched its Amisoft ECS-22W, a mild, amino acid-derived, sulfate- and petroleum-free anionic surfactant.
"It has excellent foaming properties even in the presence of oils," said Divya Namjoshi, the technical and marketing specialist for Ajinomoto's specialty and personal care group. "It is a multifunctional ingredient—it is a mild surfactant, and at the same time, it has excellent skin and hair conditioning properties. It is also an Ecocert-certified natural ingredient."
According to Lisa Jones, regional vice president, general manager, Coast Southwest, "We are expanding our patent-pending aqueous foam boosting series of ingredients, all based on vegetable carbohydrates, and produced through the hydrolysis of corn starch. These materials allow formulators to reduce the amount of harsh surfactants in a formula while improving the structure and lubricity of the foam."