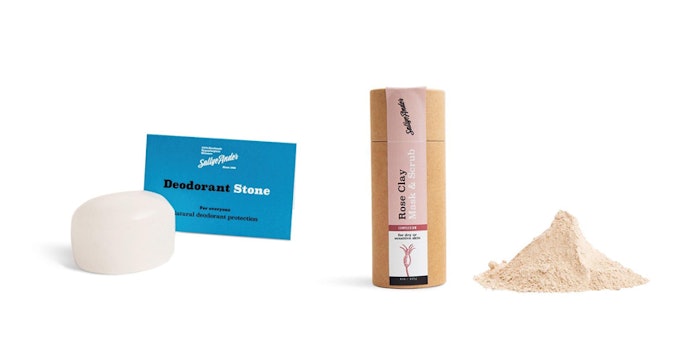 The latest round of beauty launches include SallyeAnder's natural skin care, Commit Haircare's debut of its Rooted In Strength Collection, Davroe's Scalp Remedy Line and more. 
Related: Adwoa Beauty Launches Curly/Kinky Hair Collection
SallyeAnder
SallyeAnder has launched natural skin care solutions, including deodorant, bug spray and under-eye treatments.

All products are produced ethically and are hypoallergenic, as well as sensitive-skin-friendly.
Products launched include:
The Deodorant Stone is made from naturally occurring mineral salts that stop odor-causing bacteria and is free of aluminum and plastic packaging. 

The Rose Clay Mask & Scrub is an all-natural face treatment made from rose clay from Provence, France, and golden flax seed meal.

Krudd Complexion, Shave & Shampoo Soap is enriched with cocoa butter, shea butter, myrrh, frankincense, and cupuacu butter.

The Nourish Under Eye Treatment is Made from natural ingredients including orchid oil calcium, magnesium and zinc, with a beeswax base.

The No-Bite-Me Bug Repellent Cream and No Bite Me Soap contain 18 safe, active ingredients and are effective against black flies, mosquitoes, fleas, ticks, ants and spiders. The cream also works as an after-bite solution.
Commit Haircare
Commit Haircare has announced the debut product of its Rooted In Strength Collection called the Spring To Life Oil.
The oil contains ingredients such as aloe oil, rice bran oil, rosemary oil, lemongrass oil and Jamaican black castor oil.
It is suitable for all hair and scalp types, including all-natural hair grades, color-treated and chemically processed hair, as well as safe for protective styles. 
Commit Haircare owner Monique Tatum said, "At Commit Haircare, our ingredients are safe, all-natural, and gentle enough to be used by your entire family. When formulating our products, we went to great lengths to ensure that they are free of silicones, parabens, mineral oil, sulfates, petrolatum, and other limiting ingredients. Commit is a natural hair care brand that was a long time coming for me; it was important to me to bring a product to market for natural hair that tackles a multitude of our daily hair care issues. I'm excited for our customers to try it for themselves and their families as well stick with us for future product releases."
Davroe
Davroe has launched its Scalp Remedy hair care line.
The line focuses on reliving scalp issues and is said to help clear dandruff and soothe the scalp.
The collection includes: 
Scalp Remedy Shampoo: formulated with ingredients such as Australian plant extracts, aloe vera, and rice and quinoa proteins 

Scalp Remedy Conditioner: formulated with ingredients such as kakadu plum and rice and quinoa proteins 

Scalp Remedy Lotion Spray: a lightweight leave-in treatment infused with aloe vera and kakadu plum.
Divina Salon Solutions
Divina has debuted its Purf Pool & Surf Shampoo and Moisturizing Conditioner, made for hair that has been damaged by minerals and chemical buildup from swimming in chlorinated pools or salt water.
The shampoo and conditioner duo is said to help repair damaged hair through its formula enhanced with keratin, pro vitamin B5 and aloe vera.
The shampoo works to remove elements from the pool while the conditioner is said to strength and protect. It is safe for natural and color-treated hair. 
Obvi
Ronak Shah has launched Obvi, a health and wellness brand focused on cereal flavors.
Obvi offers beauty supplements including its Collagen Whey Protein in Unicorn Milk and  its Super Collagen Protein Powder in the following flavors: Peanut Butter Cups, Fruity Cereal, Cocoa Cereal, Cinna Cereal, Frosted Cereal, Honey O's Cereal, Marshmallow Cereal and Unflavored. 
The Peanut Butter Cup flavor sold $96,000 within in the first 24 hours of releasing. 

The brand also offers weight-loss, energy, immune support and daily essentials, as well as snacks.