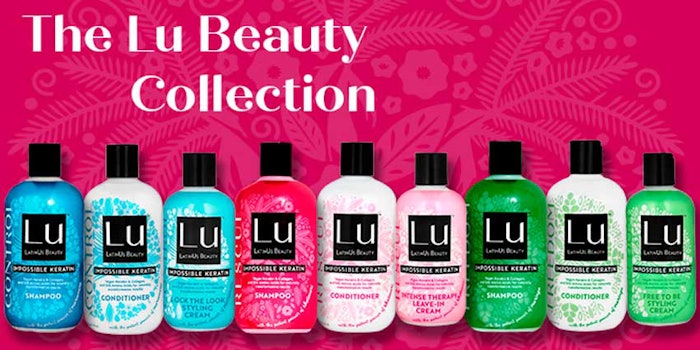 LatinUs Beauty is the first line of hair care products that is designed and formulated for the needs of Latina hair, but can be used for any hair type.
Previously: Hottest Hair Brands & Products, 2021: Cosmetify
The brand's Lu Collection features three lines: Control, Freedom and Rescue. The formulations use natural ingredients and are rich with vegan keratin, silk amino acids and vegan collagen. 
Global Cosmetic Industry recently interviewed Carol Teter, CEO of LatinUs Beauty.
How do the hair care products tailor to the needs of Latina hair?
Carol Teter [CT]: We believe the Latina consumer is the most sophisticated consumer on the planet. Based on the insight that Latinas share mood and mindset with regard to hair versus the traditional end benefits that other hair care lines proclaim, our Lu hair care line is comprised of three mood-based collections; the Freedom Collection, the Control Collection and the Rescue Collection.
Her hair decisions and style transformations depend on what she wants to achieve that day. For example, she may have a big corporate meeting and prefer to wear her hair straight, achieving a more polished look that is not heavy.
As the world opens back up again and celebratory gatherings resume, she may feel in a more festive mood wanting more volume and movement, but always without the frizz; a universal pain point. And then there are days where because of the overuse of curling irons and hair dryers, she just wants a spa day for her hair. 
Designed by Latinos and made in California, we have developed a collection to accommodate all of our customers' hair care needs. Each works differently depending on the mood she wants to embody.
Impossible Keratin is our game-changing proprietary technology, and it took four years to make. The essence of the products lies in the amazing scents each collection possesses.
Fragrances are incredibly important to Latinas. We worked with a team of expert perfumists, who developed the premium fragrances in a way that would conjure up memories and nostalgia, similar to the way novelas do for their super fans (more on that in a minute). Our fragrance quality is much higher than what is usually used in the hair care industry. 
Latinas are also very conscious about the environment. We take pride in that our products are the cleanest products we know. There is an active ingredient behind each collection (muru muru, moringa, shatavari), and we are cruelty free, paraben free, sulphate free, phthalates free, and colorant free. Our Lu products also have vegan keratin, silk amino acids and vegan collagen.
How does LatinUs differentiate itself from others?
[CT]: Our main differentiator is love. It took us four years to develop something so special. LatinUs is built on love and passion for our community, our roots and culture and for what we do.
Unlike any other hair care or beauty brand in the marketplace, LatinUs sits alone at the intersection of beauty and entertainment; two key passion points for our Latina consumer.  This is a key differentiator and places LatinUs in an advantageous position to lead the industry in not only product innovation, but in marketing innovation.
In addition to our unique mood-based approach, we differentiate in the ambassadors we align with to promote and endorse our brand. They are icons of the Latino community. Next month we will be making an exciting announcement on this front. We differentiate in our entertainment content which we gift to viewers, and we differentiate in the way we have developed a product from the bottom up so that our Latina consumer can get behind and take pride in. 
Finally, we have best-in-class team of strong, talented female executives. Our CEO is female, our head of research is female and American from Puerto Rican descent, our CMO is a Mexican woman, our lead chemist (our head of R&D) is Venezuelan, and our lead writer for our original content is a Mexican woman. 
What are the latest launches for the brand?
[CT]: We launched our three signature collections, all of which consist of shampoo, conditioner, and styling product in September 2020. In the first six months of launch, our hair care line has a repeat rate of 35%, three times that of the industry average. 
In addition to launching a premium product line, the team is leveraging the power of telenovelas to bring our multi-dimensional Lu brand to life. Under the creative helm of television industry veteran, Güero Castro, who serves as the company's chief content officer, we have created a unique original programming approach for marketing to our Latina consumer and we know she loves novelas.
Carefully scripted to represent a multi-generational consumer, we hired two of the most renowned Telenovela writers to create the script for the novela series, "Lu: The Power of Us." Those writers accompanied the team on consumer research throughout the United States so they could experience consumer insights and gain perspective on creating the right narrative with authenticity and accuracy. 
The content team leveraged market insights from the research to create the most compelling content and story-telling, sure to resonate with LatinUs' consumer. We launched the trailer in December 2020. We are in talks with a major Spanish-language network in the U.S. to produce the novela series.
We are excited to launch or most important product, our Lu serum, which contains three times the power of Impossible Keratin. That will be up next in the coming months.
What does the future look like for LatinUs Beauty?
[CT]: Based on the overwhelming response from our customers, our future is very bright. Think of us as a Red Bull type of brand, focused on Latinas, and where you have content with producers, writers and novela actresses, and at the same time, you have a beauty/hair care brand. They all go hand in hand.
We will continue to grow our beauty line, but only in the areas we feel we can create a beauty product that far exceeds her expectations. On the entertainment front, we call our content model, the Lu Highway.
We will continue creating novelas for TV, series for youtube, and podcasts for audio. Our next story will be coming soon, and we expect to produce it before the end of 2021.