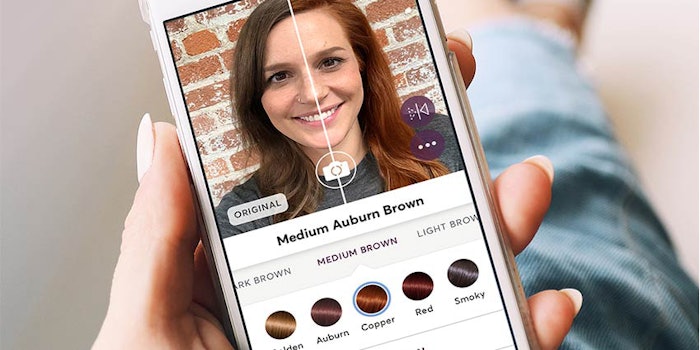 Ever wished you could try on hair colors as easily (and neatly) as you try on a new shade of lipstick? Madison Reed  has heard your cry: The prestige hair color brand has unveiled a virtual try-on tool.
Available on its website, Madison-Reed.com, via phone, tablet or desktop, users can virtually try on more than 40 of the brand's hair colors by using the device's live camera or uploading a selfie. A split screen appears immediately highlighting the difference between the user's current hair color and the new, virtual trade. The screen's built-in slider allows the user to toggle between the two colors in real time.
Madison Reed collaborated with Perfect Corp., the parent company of beauty app YouCam Makeup, for the technology. The teams worked closely to integrated a palette of hair colors into a live, virtual try-on tool powered by augmented reality, artificial intelligence and color-matching technologies. The partnership marks the first time YouCam Makeup has embedded its in-app, hair color tech into a direct-to-consumer website.
Related: UPDATED: Madison Reed To Undertake 'Aggressive Expansion Strategy'
The tool is the latest in Madison Reed's technology innovations; the brand also has a chatbot which analyzes selfies to suggest the perfect hair color match, and a smartphone app with voice-recognition and voice-controls which enables users to follow step-by-step application instructions without having to touch their phones.
"Madison Reed believes in empowering our customers in every way imaginable," said Amy Errett, CEO and founder  of Madison Reed. "Our goal is to eliminate any fear factor and enable people to choose a new hair color with the confidence of having already witnessed the end result. Women have been begging for this try-on technology, but current solutions just don't hit the mark. Now, an accurate, realistic solution finally exists on Madison-Reed.com."
"Our continued deep-learning technology has helped capture the unique movement and dimension of individual hair strands in order to display the most true-to-life, virtual hair color try-on imaginable," added Perfect Corp CEO Alice Chang. "Madison Reed is the first to integrate this unique, live hair color feature into its website shopping experience, and we are proud to have made that possible."