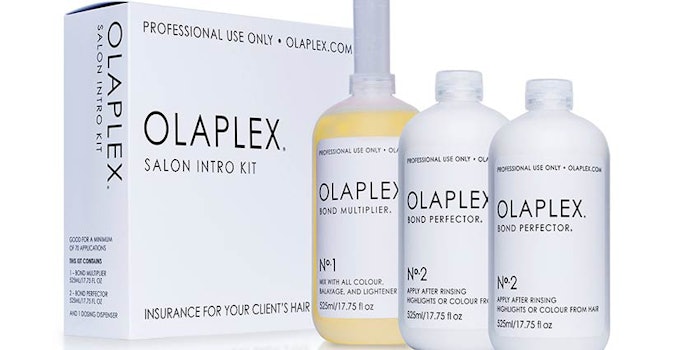 By rebuilding hair bonds in a two-step system, Olaplex (pictured) managed to bring some unique innovation to the professional hair treatment space. A 2015 Kline analysis estimated that the brand had perhaps tripled its revenue between 2014 and 2015 and that further growth was likely.
Plex product sales grew 525% between 2014 and 2015.
"The biggest promotion for the miracles that Olaplex claims to do to hair has been Kim Kardashian's makeover, which turned her previously dark hair to blonde without any visible damage," Kline noted last year.
Now, Croda has unveiled its bond multiplier offering, Croda Plex, which "defends against coloring and bleaching damage and improves integrity of damaged hair after it's been treated."
Citing Kline's figures, Croda noted that plex product sales grew 525% between 2014 and 2015.
Croda Plex uses heat-activated technology to build bonds, thereby boosting hair integrity within the cortex and protecting the cuticle during blow drying. The hair system is powered by the supplier's Crodasone Cystine, which covalently bonds to hair to impart conditioning benefits; Keravis, which increases the hair's tensile properties, bending modulus and cuticle abrasion; and Crodazosoft DBQ, which softens the hair and defends against cuticle abrasion, while also protecting artificial color.
"In salon tests, the Croda Plex system left hair feeling stronger after step 1 and all wet attributes of the hair were rated favorably and comparably to a commercial Plex system after Step 2," according to Croda.