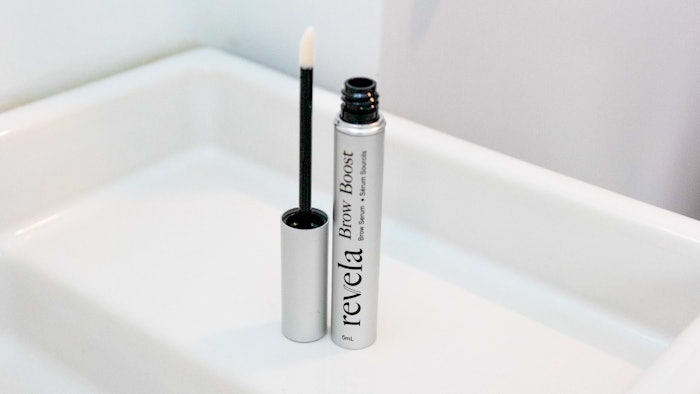 Revela has added to its thinning hair care offerings with the Brow Serum, intended to promote eyebrow and hair growth. It is formulated with the brand's ProCelinyl, a patent-pending molecule composed of natural components from mushrooms and mustard plants, which reportedly targets the dermal papilla (DP) in hair follicles to boost daily growth by 50% and supports hair and follicle health more consistently than other ingredients on the market.
Related: Nutrafol Combats Hair Aging with Collagen Infusion
To create its formulations, Revela uses proprietary biosensors to create biological models that can be used by AI to predict new synthetic compounds to enhance human health. Those compounds are then validated in biological models to ensure safety and efficacious.
The Brow Serum should be applied daily under the eyebrow to promote follicle health in 2-3 weeks, according to the company.
Revela Brow Serum costs $88 for a 5 ml tube, which lasts approximately four to six months. Consumers can join the waitlist for the product here.
More: Revela Engineers Mushroom/Mustard Molecule to Boost Hair Growth