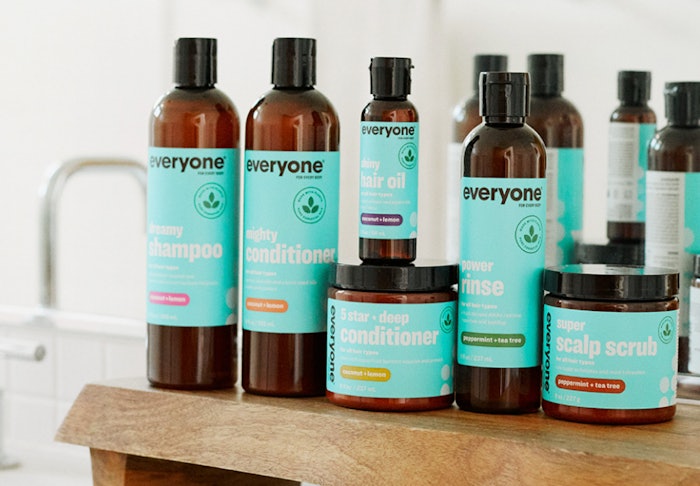 Everyone for Every Body has expanded into the hair care category with the launch of a new collection featuring six new products. 
The collection is free of artificial fragrances, SLES/sulfates, silicones, phthalates, parabens and gluten.
Products in the collection include:
Dreamy Shampoo: Nourishing pomegranate seed and carrot seed oils rich in omega-3 fatty acids boost hydration.
Mighty Conditioner: Use as a post-shampoo conditioner, a co-wash, or protective leave-in treatment.
5-star Deep Conditioner: A deep conditioner that can be used after shampooing or left on overnight as a mask.
Super Scalp Scrub: Exfoliating sugar gently loosens and removes product buildup, while avocado, apricot and carrot seed oils help nourish and strengthen hair.
Shiny Hair Oil: Meadowfoam seed oil and jojoba oil are combined to create a light oil to tame frizz and flyaways while locking in healthy, manageable shine.
Power Rinse: Blend of four AHA fruit acids formulated to remove buildup while soothing and balancing scalp and hair.
The products are available online at everyoneforeverybody.com and in Whole Foods nationwide.