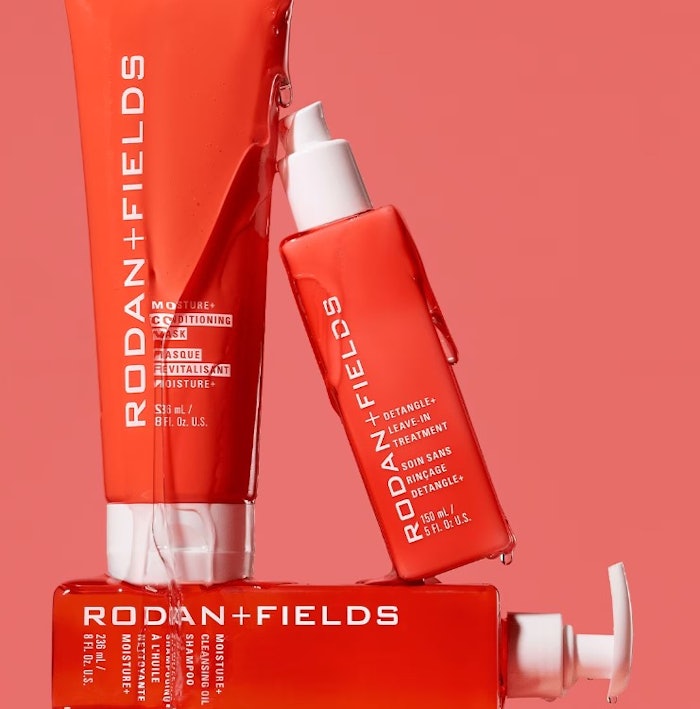 rodanandfields.com
Rodan + Fields has launched its Moisture+ Regimen, its second hair care collection.
Moisture+ Regimen is said to repair dry and damaged hair and soften curly, coily, thick hair, for hydrated, more manageable hair instantly and over time.
The collection features a three-step regiment:
Moisture+ Shampoo: Ultra-replenishing, color-protecting, oil-infused shampoo that cleanses as it helps maintain a healthy scalp. 
Moisture+ Conditioning Mask: Intense deep-conditioning mask that helps lock in moisture, renews brittle strands and softens dry tresses as it helps to maintain a healthy scalp, for stronger, more manageable hair with less hair fall due to breakage. 
Detangle+ Leave-in Treatment: Multi-tasking leave-in conditioner that detangles by enhancing slip, softening brittle strands, repairing damage and mending split ends, for silky, smooth, more manageable hair without tangles. 
Celebrity hairstylist partner Bridget Brager and guest celebrity hairstylists Suzette Boozer and Denise Madrigal, will represent R+F Haircare as key spokespeople, content creators and serve as educators to the R+F Consultant community.
All products are available through Rodan + Fields independent consultants and on the Rodan + Fields website at rodanandfields.com.
 Dimitri Haloulos, CEO and president, Rodan + Fields, said, "As we reach the one year milestone since launching R+F Haircare, our newest category continues to represent a significant opportunity for our R+F community to change more lives through reaching new Consultants and Customers. We are thrilled to bring this latest innovation to market and continue on our path of providing dermatology-created products to deliver demonstrable results that Customers need for the best skin and hair of their lives."