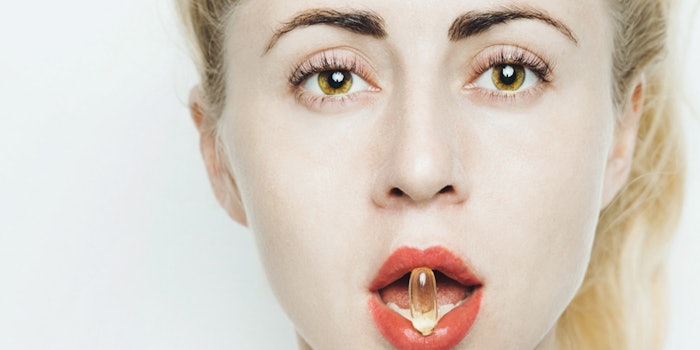 The current crisis has magnified and accelerated the blurring of beauty and wellness.
In a pandemic-stricken world, prevention is self-care. Even prior to the outbreak of COVID-19, wellness had been transforming the $999 billion beauty sectora, blurring the distinctions between the categories as consumers pursued a 360-degree approach to well-being. The current crisis has only magnified and accelerated this transition. Among the innovation opportunities coming to the fore are beauty supplements and functional foods.
As the world slowly adjusts to the "new normal," consumers seem to have only one thing on their mind: stay safe. According to research from Nielsen Basesb, consumers now believe that product claims focused on providing immunity and overall health promotion are more relevant than all others.
Nielsen Bases Quick Screen research has also identified the top product benefits that consumers are willing to spend more for during the COVID-19 pandemic, including:
Keeps my immune system strong
Keeps my family safe from diseases
Market Size for Ingestibles
The markets for various subcategories of ingestible products are immense. In the United States, Japan and Europe, a large and growing population of aged citizens has led to interest and demand for natural health remedies to both prolong life and its quality.
According to a 2013 report by McKinseyc, 70% of Americans already sought health information online, which is where beauty supplement suppliers have the upper hand. Rather than requiring doctors or experts to prescribe the products, they can target audiences with ads, sponsored posts, celebrity ambassadors and product placements in popular online media such as fitness, beauty, health and lifestyle blogs and sites.
Looking ahead, growth is expected to be robust.
The worldwide nutraceutical (products designed to benefit nutritional health) market will expand to $722.49 billion by 2027, expanding at a CAGR of 8.3%, per Grand View Researchd. Growth will be driven by the United States, China and India, where calorie reduction and weight loss are front-of-mind.
The worldwide dietary supplements market grew to about $123.28 billion in 2019, per Grand View Researche, driven by rising health concerns, changing lifestyles and dietary habits, and the rise of sports nutrition.
The worldwide functional foods (comestibles with benefits beyond basic nutrition) market is expected to reach $275.77 billion by 2025, per Grand View Researchf, expanding at a CAGR of 7.9%. The rise will be led by increased demand for nutritional and fortifying food additives, probiotics and omega-3 fatty acids.
The nutricosmetics (supplements offering aesthetic benefits) market is expected to become a $7.4 billion global industry this year, per the Global Wellness Instituteg.
Data: Pandemic Demand
IRIh recently presented data for the week ending March 22, 2020, showing that while most product categories in the United States saw average basket sales gains, personal care and cosmetics sales declined year-over-year, illustrating the rapid refocus on must-haves.
Conversely, during the same period, sales of vitamins grew 77%. IRI-surveyed consumers reported that they take vitamins (57%) and practice good personal hygiene (71%) as part of their self-care practice.
It is no surprise, then, that IRI found that, "Preventive health care products, like immunity, are trending higher than symptomatic products, as consumers look first to prevent illness."
A recent analysis from Spatei found that Google searches in the United States for vitamins to boost immune systems has exploded:
elderberry, up 52.4% since 2019;
vitamin C, up 25% since last year;
echinacea, up 13.1% since last year;
and zinc, up 7.7% since 2019.
Propolis, which has drawn interest for anti-viral activity, has spurred search phrases including "propolis throat spray." This ingredient registered a 101.2% increase in searches month-over-month (5.8% year-over-year) between February and March 2020, with 59,000-plus average searches per month in the United States.
During the same period, zinc citrate shot up in interest due to its immune-boosting effects, generating search phrases such as "zinc citrate powder" and "best zinc citrate supplements." Search volume jumped 264.2% between February and March 2020. That said, it had a lower number of searches per month in the United States compared to propolis.
Spate has also unearthed a wider range of trending ingredients and claims that align with the ingestibles sector.
Terms with slow and steady popularity growth include:
probiotic
adaptogen
tocopheryl acetate (vitamin E)
Terms experiencing a spike in interest include:
zinc citrate
oregano
black seed
ginger root
burdock root
BHB (beta-hydroxybutyric acid)
Spate also uncovered growing interest in immune-boosting and soothing ingredients from the world of nutrition and foods, including aloe vera, ginger and turmeric. The company has also highlighted ashwagandha, an ingredient that has been turning up in numerous recent launches (more on that in a moment). Ashwagandha is sometimes associated with benefits such as calming, anti-inflammatory, blood pressure-lowering and immune-boosting.
Regarding claims, Spate noted that the following wellness-oriented terms have been trending:
purifying
peeling (dead skin cells)
disinfectant
antiseptic
chewable (tablets)
clearing
antioxidant
The pandemic has also boosted sales of CBD products. According to a reportj from AlphaGreen, about 8 million U.K. adults have purchased CBD products in 2020, year-to-date (as of press time). This translates to about 15% of the population, generating sales of more than £150 million. This could represent 50% year-over-year growth for the market.
AlphaGreen notes that interest in CBD products has doubled since the March 2020 onset of COVID-19 in the United Kingdom. Leading concerns associated with the trend include pain management, insomnia and anxiety relief. Even with the growth, more than 50% of respondents reported feeling that "there is a lack of reliable information on CBD products."
As seen in the CBD data, sleep is a key concern of stressed consumers. It's no surprise, then, that the melatonin supplements market—comprising tablets, capsules, lozenges, liquids, sprays, drops and sublingual formulations—is forecastk to grow more than 12% through 2021.
Product Formats
Ingestible products in the well-beauty space can comprise a diverse range of formats, including:
RTD beverages
packaged foods
pills/tablets/capsules
lozenges
gummies/drops
tinctures
mix-in powders
oral sprays
While quality will play a role in driving preferences within specific ingestible segments, ease of use and organoleptic facets will likely drive success. One AARP report noted, for instance, that flavored gummy supplements were increasingly popular with adults due to "pill fatigue" associated with swallowing large numbers of medications and supplements, as well as the desired masking of unpleasant-tasting active materialsl.
For the full article, please check out Global Cosmetic Industry's July/August Issue.
Footnotes:
a www.globalwellnesssummit.com/2017-global-wellness-trends/wellness-remakes-beauty
b www.nielsen.com/us/en/solutions/capabilities/bases/idea-screening
c www.mckinsey.com/business-functions/marketing-and-sales/our-insights/cashing-in-on-the-booming-market-for-dietary-supplements?cid=eml-web
d www.grandviewresearch.com/press-release/global-nutraceuticals-market
e www.grandviewresearch.com/industry-analysis/dietary-supplements-market
f www.grandviewresearch.com/press-release/global-functional-foods-market
g www.globalwellnesssummit.com/2017-global-wellness-trends/wellness-remakes-beauty/
h www.iriworldwide.com/IRI/media/Library/COVID-19-Thought-Leadership-4-3-2020.pdf
i www.spate.nyc
j https://medium.com/alphagreen/cannabis-to-the-rescue-uk-cbd-sales-greenshoot-as-lockdown-and-covid-19-plays-out-57e550f50a63
k www.researchandmarkets.com/reports/4372330/global-melatonin-supplements-market-2017-2021
l "Gummies for Grown-ups," www.aarp.org/health/drugs-supplements/info-2017/gummy-vitamins-for-adults-fd.html