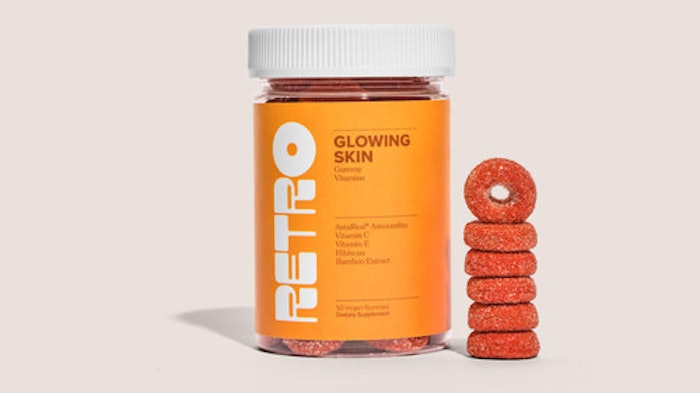 Women's wellness brand O Positiv has launched its first beauty product—Retro Glowing Skin Gummy Vitamin. The supplement contains AstaReal astaxanthin (a natural antioxidant produced by microalgae and phytoplankton), vitamin C, vitamin E, hibiscus and bamboo extract.
Related: Beauty Supplement Opportunities
Retro vitamins promote overall skin health and may reduce signs of aging by supporting collagen production and neutralizing free radicals. It is recommended to take two gummies per day for deeply hydrated, bouncy and glowing skin. The vitamins are vegan-friendly, gluten-free, cruelty-free and non-GMO.
The Retro Glowing Skin Gummy Vitamin is available at opositiv.com.
Brianna Bitton, co-founder, O Positiv, said, "We knew we wanted to tackle a wider range of issues with O Positiv. Our consumers care about their skin health, and Retro is packed with clinically proven ingredients that have been shown to improve skin texture. Plus, the gummies have a delicious juicy peach flavor that is hard to resist!"