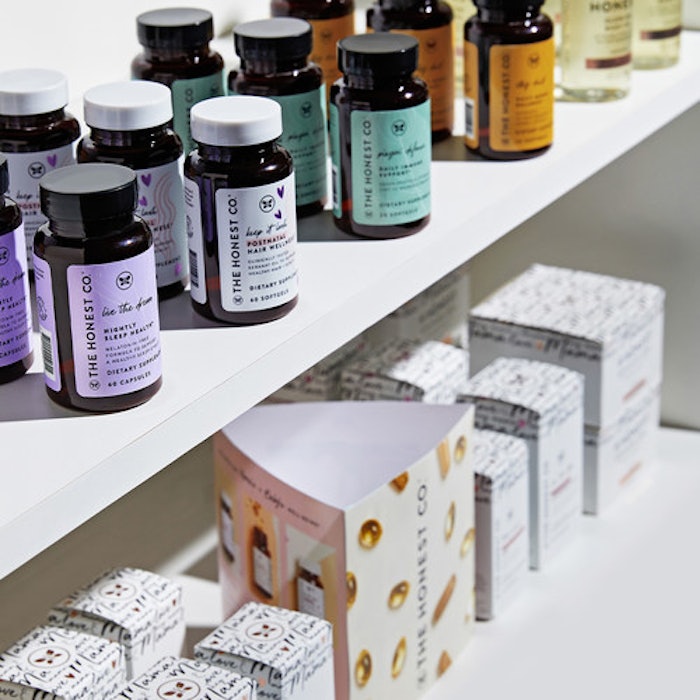 The Honest Company has rolled out four new supplements geared towards women's wellness exclusively at GNC.
Three of the products target overall women's health and one is for postpartum women.
Nightly Sleep Health features a proprietary blend of active ingredients, including theanine and valerian, to help calm the mind and support healthy sleep.*
Daily Mood Balance contains a proprietary blend of rhodiola and phosphatidylcholine to help manage everyday stress and a balanced mood.*
Daily Immune Support incorporates zinc, vitamin D and organic green propolis to support everyday immune health.*
Postnatal Hair Wellness is formulated with clinically tested keranat oil to help maintain hair and scalp health.*
The launch of these products at GNC builds on The Honest Company's partnership with the health and wellness retailer. The Honest Company initially rolled out six products for new and expectant mothers at GNC in May.
"Our relationship with The Honest Company has allowed us to continue our commitment to women's health and wellness," said Karlyn Mattson, executive vice president and chief merchandising officer at GNC. "With the launch of four new exclusive products, we're aiming to further connect with our female consumers to support them on their journey to Live Well. The Honest Company has been a great partner and consistently surpasses our expectations with formulas that not only use great ingredients, but are also backed by rigorous testing and improve women's everyday health."
*This statement has not been evaluated by the Food and Drug Administration. This product is not intended to diagnose, treat, cure or prevent any disease.
Nightly Sleep Health
$25.99 per 60 count
Ingredients: Magnesium, Theanine, Chamomile (Matricaria Chamomilla) Extract (Flower), Gamma Aminobutyric Acid, Valerian Root Extract, Bamboo (Bambusa Vulgaris) Extract (Stem and Leaf), Lavender (Lavandula Officinalis) Extract (Flower), Vegetarian Capsule, Microcrystalline Cellulose, Vegetable Magnesium Stearate
Daily Mood Balance
$25.99 per 60 count
Ingredients: Sunflower (Helianthus Annuus) Oil (Seed), Medium Chain Triglycerides Oil (From Coconut), Perilla (Perilla Frutescens) Oil (Seed), Rhodiola Rosea Extract (Root), Phospatidylcholine (From Sunflower), Rice Bran Wax, Starch, Vegetable Glycerin, Carageenan, Sorbitol, Tumeric Oleoresin (Color), Potassium Phosphate
Daily Immune Support
$25.99 per 30 count
Ingredients: Zinc Oxide, Cholecalciferol, Propolis Extract, Sunflower Seed Oil, Bees Wax, Sunflower Lecithin, Gelatin, Vegetable Glycerin, Coral Calcium, Sodium Copper Chlorophyllin (Color)
Postnatal Hair Wellness
$35.99 per 60 count
Ingredients: Keranat Oil, Millet Oil, Wheat Extract, Rosemary Extract, Sunflower Seed Oil, Starch, Vegetable Glycerin, Carageenan, Sorbitol, Potassium Phosphate