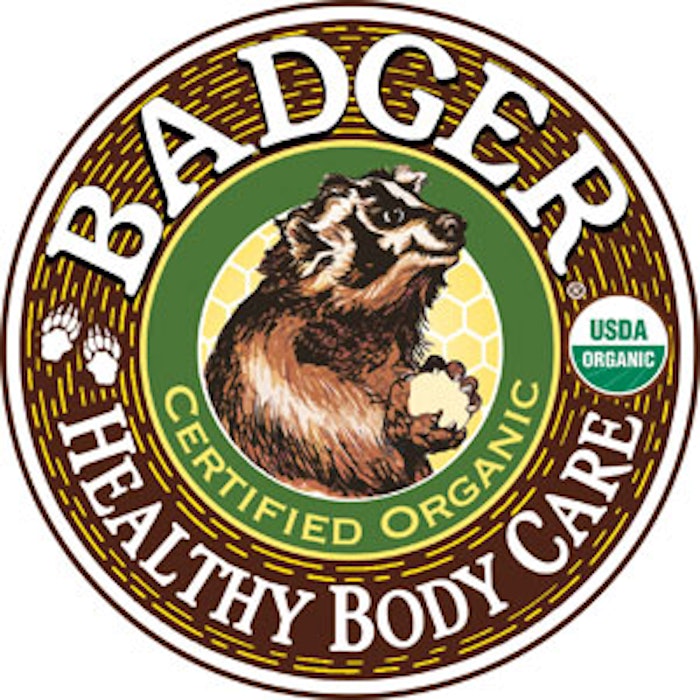 Founded in 1995, W.S. Badger Company was born from Bill Whyte's lifelong passion for the healing power of herbs and natural remedies and the creation of Badger Healing Balm. Fourteen years later, Badger is still in the business of creating certified organic, all natural products. The company, which originated out of Whyte and co-founder and wife Katie Schwerin's home, now has grown to be a global brand that employs 40. Whyte, CEO; Schwerin, director of marketing and product development; and their three daughters, however, remain hands-on participants and test market in product creation and trial. The company recently achieved U.S. Department of Agriculture (USDA) Organic Certification, which it cited as a major milestone.
Was W.S. Badger a planned venture, or something that happened accidently?
I was working as a carpenter in New Hampshire. My fingers were severely cracked and chapped from working in the cold one especially harsh winter. I was lying in bed one night with my hands wrapped in olive oil-soaked socks and covered in plastic bags, trying to relieve the pain. My wife, Katie, took one look at that and gently suggested that I could "do better." I mixed up a batch of what later became Badger Healing Balm. It worked fast and well. My fingers healed and the idea for the business was born.
I was going to call that first product "Bear Paw," a good name for selling to hardware stores that were early retail outlets for the company, but the night before my tins were to be printed, I found out someone else had use of that name. A former co-worker told me that a badger paw was medieval and frightening, and suggested original art. Badger is an ancient totem; keeper of the knowledge of the world of roots and herbs.
[Natural ingredients] have been a lifelong passion. I worked in an herbal shop in the 1970s in Boston and was totally captivated by the herbs. I began studying then, and have continued deepening my knowledge of herbs and natural healing ever since, reading about and attending lectures about herbs and natural healing, and applying herbal and folk medicine principles in my daily life—first for my own health and well-being and later as a father and friend. My wife is also an accomplished herbalist. I'm also a fanatical organic gardener and the use of organic ingredients is integral to our Badger products. My knowledge of the industry comes from our presence in it the past 14 years. What pitfalls have you encountered along the way?
The answer is probably every pitfall. Business is difficult. You have to do the one or two "most important things" perfectly to just survive in business. To flourish and excel, you have to be adaptable, persistent and skilled. My business philosophies are:
Don't even bother making something that isn't good or isn't better than something else.
You must have a spectacular product that people want and need.
Make sure your artwork and attention to detail are sharp. A product has to be able to stand out from the 3,000 other items in the store.
Body care products should be comforting and attractive in addition to being something people want and need.
How has the company changed along the way?
We started with $15,000 and one part-time helper the first year, and grew to $1 million in sales and 12 helpers by the fourth year in business. We now have about 40 "badgers" and worldwide sales, so things have changed dramatically. On the other hand, it still feels relaxed, kind, fun, personal and rewarding—so, much has stayed the same. I love what I do.
Have philosophies and core principles altered as the company has grown?
I think the principles emerged from the way we were doing business by our fifth or sixth year, and we just thought it would be useful to write them down and make things clear. They are really just variations on the idea of being kind and considerate to people and the planet. I've been really surprised at how important they've become to us and how much Badger workers appreciate the principles and refer to them, especially to principles such as, "Fun is good," or "A personal and caring approach to communications." Certainly, when we write promotional copy or attend a trade show, one of our hallmarks has been to remain personal and caring.
Was there ever a time you were unsure if your organic products would find a market?
Our first product was an immediate and widespread success. We always first try new products on ourselves and our friends and family, and we feel that if they absolutely love them, others will too. In fact, our approach to product development is to make something for someone you love. If we do that, then we can feel proud to give such a product to the world. We won't refer to a target audience; when we create products, we think of a person, not a consumer.
Are you able to pinpoint when a mainstream perception regarding natural and organic products changed?
During the past two years, there has been an absolute tidal wave of interest and growth in "natural" and "organic" products in the personal care and cosmetic world. The problem is that it is difficult for the average buyer to discriminate between [different and sometimes opposing definitions of natural products]. Communicating this has actually been a big marketing dilemma for us—stressing that we are certified organic as opposed to just having some natural ingredients. It's a bit like buying wine. How can you tell, other than by price or research, which is the better wine?
Has your company been affected by the green movement? Do you feel the perception regarding your products has changed as a result?
Green is good. Certainly, people are more concerned about global climate change and by the various scares regarding cosmetic and food safety. The organic movement has grown, as have our sales, and we are now much more readily accepted, recognized and even sought-after by previously main-stream buyers who wouldn't have given us the time of day.
What's next for Badger?
We'd like a new building. We're going to build it using Bau-Biologie building standards, which uses all natural materials and focuses on how building impacts life and the living environment. I see Badger as a business of the future—one that focuses on doing good instead of making money. Money is not the goal, it's the fuel. The purpose of Badger is to do good, make good products and help people. We want to be Badger through and through, by the materials we use, our building, our products and how we treat our employees and customers. There's really no limit to the products we can make, we're just taking very simple ingredients and concentrating them in a very simple way.