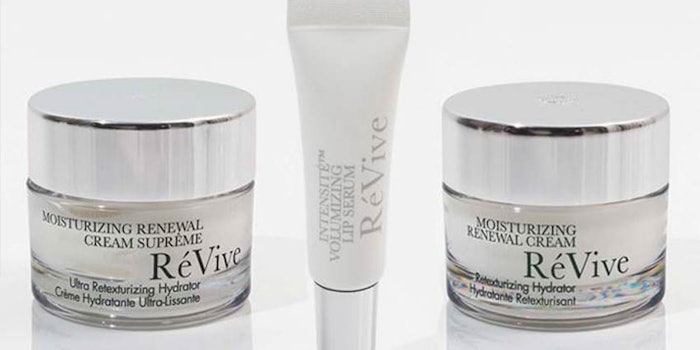 Tengram Capital Partners is acquiring luxury skincare brand RéVive from Shiseido Americas Corporation, which purchased the brand in 2016 as part of its acquisition of Gurwtich Products LLC from Alticor. Terms of the sale were not disclosed. RéVive will be run as an independent, standalone entity, and will be headed by Elana Drell Szyfer, who previously worked with Tengram as the CEO of Laura Geller New York, which Tengram sold in 2016.
Listen: Elana Drell Szyfer -- There's More Than One Beauty Playbook
John Elmer will take the role of CFO and COO of RéVive. He previously served same role at Laura Geller, and has held CFO/COO roles at Carol's Daughter.
Mary Rodrigues will serve as SVP of marketing and ecommerce.
Shiseido Americas will continue to provide supply chain, distribution and other support services during the transition.
Elana Drell Szyfer commented, "RéVive is a gem – a brand with a strong foundation, a proven track record and limitless future potential, and we plan to invest in the brand, including sales, marketing, promotion, product development, e-commerce and more to enable it to thrive."
"RéVive is a wonderful skincare brand. We are confident it will be well supported by Tengram while Shiseido focuses on continuing growth across our strategic portfolio of brands and businesses," said Marc Rey, president & CEO of Shiseido Americas. 
RéVive is currently distributed domestically at luxury retailers Neiman Marcus, Saks, Bergdorf Goodman, Barney's, Blue Mercury and Cos Bar and at select retailers in Canada, the United Kingdom, Europe and Asia. Tengram Capital's current beauty portfolio also includes Nest Fragrances, Algenist, Cos Bar, and This Works.
"RéVive has always been known for the quality and efficacy of its products," said Szyfer. "Its performance and positioning is well poised to appeal to a discerning skin care consumer domestically and internationally via both current and new channels of distribution. Finding a brand like RéVive is rare – we are extremely excited about the opportunity to partner with the existing team, partners and of course, [brand founder] Dr. Brown."
"RéVive is the culmination of my academic research, my surgical expertise, my personal passion for healing and my love of the customer," said Dr. Brown. "I am so excited for this next chapter in the brand's journey. I have enjoyed getting to know Tengram and have great respect for Rich Gersten and what he and the Tengram team have accomplished with their brands. Elana and I have a shared vision of success and I'm excited to see the great things the future holds."
"We are delighted to add RéVive to our strong and growing portfolio of beauty brands," said Richard Gersten, a partner at Tengram Capital. "As an investor in consumer brands with a deep knowledge in beauty, I have watched RéVive for a long time. We believe it is a gem, thanks to Founder Dr. Gregory Bays Brown, its exceptional products based on Nobel prize-winning technologies, a loyal consumer following, and its impressive distribution. The RéVive brand has strong growth prospects, and we look forward to investing in key areas to enable the brand to thrive."