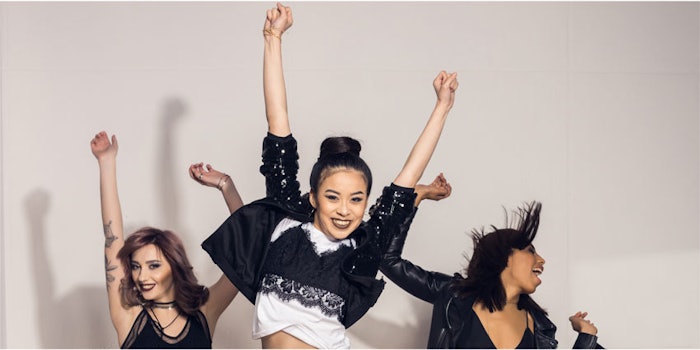 There has never been a generation like Gen Z. As the most diverse generation of Americans ever (46% identify as a race/ethnicity other than white*), these young people are champions of individuality and inclusivity. Not only are they redefining concepts of size, race, and gender, they're granting themselves and everyone else freedom of self-expression.
And there's probably no industry more impacted by this refreshing "you be you" ethos than the beauty industry. From how it's sold to who's its sold by, the beauty industry has been upended ... and Gen Z is here for it!
How It's Sold
There has been an incredible (and welcome!) shift in how beauty brands are sold, driven in large part by the expectations of young consumers.
Traditionally, there were only two primary ways to buy your beauty products: Department store counters helmed by often aloof representatives of the various high-end brands. Pretentious and intimidating, this was not exactly a welcoming environment for young consumers eager to explore and experiment. And drugstores packed with tall fixtures of product left consumers to fend for themselves wondering if LashBlast, Colossal Big Shot, or Luscious Lashes is the right mascara for them.
Retail concepts like Sephora and Ulta responded by dismissing those tired notions of selling by creating a more engaging, warm experience. Open displays, the ability to actually trial products, and brand-agnostic experts ready to help you pick the perfect shade of coral or show you how to apply the coveted smokey eye have defined why those retailers are thriving among Gen Z consumers.
Which may be why retailers from Saks and Macy's to Target and CVS are radically shifting their own approaches to selling beauty products.
Who It's Sold By
There's probably no other industry than beauty where consumers are genuinely excited about building a relationship with the brand, which may explain why influencers have overtaken traditional celebrities as the top 'talent' choice for beauty marketing. Kandee Johnson, James Charles, Robin Black (of Beauty is Boring)—these are the faces Gen Z turn to for the latest styles, brands, and tips.
Influencer relationships are built on trust and shared values. And while the beauty industry has always represented a community of sorts... it hasn't always been an inclusive one. For decades the biggest beauty brands out there almost exclusively cast white women in ads and created products that clearly catered to only light-skinned people. So it's no wonder modern consumers, particularly the incredibly diverse Gen Z, have leaned away from brands and into influencers who look like them and celebrate their uniqueness for their beauty regimen recommendations.
Major cosmetic brands, from L'Oréal to Estée Lauder, have taken note and have recently expanded their selection of foundation colors. But young people aren't buying their newfound "commitment" to diversity. Instead, they're flocking to brands that have been committed to inclusivity and individuality from the start, like Fenty Beauty, The Crayon Case, and Urban Decay.
Rihanna's Fenty Beauty is hotter than ever and frequently cited by Gen Z as a favorite. Its secret? Fenty Beauty was created for "for women of all shades, personalities, attitudes, cultures, and races" represented by its debut last year with forty foundation shades, an unprecedented quarter of which fell into the "deep" shade category. Rihanna said, "I wanted everyone to feel included, that's the real reason I made this line." And consumers—Gen Z among them—responded with support in the form of $100 million in sales within the first 40 days...particularly African-Americans, Hispanics, and Asians.  
Likewise, emerging beauty brand The Crayon Case was started by Raynell Steward—aka Wuzzam Supa or Supa Cent—who used her Instagram stardom to launch a cosmetic line for amateur makeup artists and newbies alike. Supa Cent's Instagram presence was real, raw, and funny ... and that translated into a relationship with her followers based on being unapologetically yourself. In just over a year, The Crayon Case has garnished the support of millions, who have coined themselves 'Crayon Cuties,' due in large part to Supa's transparency and acceptance of all definitions of beauty.
Started in the 90's, Urban Decay isn't exactly new on the scene but it has grown tremendously in the last decade (including being bought by L'Oréal in 2012) and is a brand favorite among Gen Z. Why? Urban Decay is a rebel brand. Shunning pinks and nudes in the 90's for bright colors and metallics, Urban Decay has remained true to its core of experimentation with colors, tones, and finishes, daring its consumers to express their individuality and challenge the status quo.
The rise of retailers that encourage experimentation and self-discovery coupled with the growth of inclusive brands that celebrate individuality prove Gen Z is not here for a one-size-fits-all philosophy. With perhaps a few exceptions, the last 100 years of mainstream fashion and beauty have been about conformity and uniformity. Beauty no longer means one size, one color, one gender. Only brands that embrace that truth, and welcome the amazing opportunities for growth that come with it, will thrive over the next 100 years.
*Annual Estimates of the Resident Population: April 1, 2010, to July 1, 2016. Source: U.S. Census Bureau, Population Division.