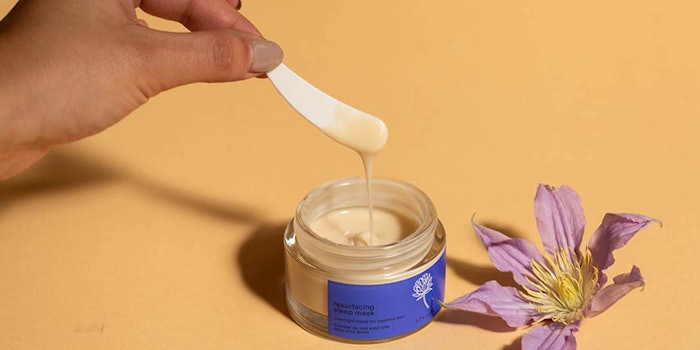 Priscilla Tsai founded and independently financed cocokind, a skin care brand focused on clean and natural, conscious, sustainable and accessible products, following a lifetime of suffering from hormonal acne. In a recent interview with Global Cosmetic Industry, Tsai explained that she sought gentle, long-term relief from her skin sensitivities by learning about holistic wellness practices, which in turn led her to the benefits of superfoods. From there, she began experimenting with various home-brewed formulations that lay the groundwork for the brand that would become cocokind.
A Significant Retail Expansion
Tsai applied her background in finance to start her own wellness company, which began selling into Northern Californian Whole Foods in 2015.
In 2016, the brand had a viral hit with its limited edition mymatcha all-over moisture stick for the lips, under eyes and general dry spots. The launch exploded on Instagram and led to the introduction of a range comprising a Turmeric Spot Treatment and MacaBeet Tinted Moisturizer Stick for the lips and cheeks.
Since that time, cocokind has introduced about 30 SKUs and retails at more than 4,000 stockists, including 1,800 national Target stores as well as Shoppers Drug Mart, Clean Market, Anthropologie, Thrive Market, Urban Outfitters and Free People. Tsai explained that, at her current scale, she is able to be strategic about which retailers she chooses to align with.
"Clean isn't enough ... [I]t's table stakes."
That said, the direct channel remains the brand's strongest revenue stream. And, being digitally oriented allows cocokind to move as fast as the growth of customer awareness.
As for the latest launches, cocokind has introduced a resurfacing sleeping mask ($22) for youthful skin. The formulation comprises a plant-derived retinol alternative intended to be worn overnight to smooth, brighten and even skin tone, reduce the appearance of dark spots and reverse environmental stress.
Also, a new multipurpose oil will launch on November 29, and is made up of 100% organic watermelon hemp oil ($18), which leverages the on-trend ingredient for lightweight hydration for skin, body and hair.
cocokind's Recipe for Retail Success
cocokind was an attractive brand partner for large retailers like Target and whole foods because of its strong market momentum, consumer awareness and relationships, and clean beauty positioning. In fact, both major retailers were prompted to work with the brand in part by the number of customers who asked for the brand to be stocked in-store. 
Affordability also matters. cocokind's products are all priced below $25 dollars, with the bestselling turmeric spot treatment ($9) serving as a point of entry for consumers. This allows major retailers to offer an approachable entrée to clean beauty.
Clean formulations are also critical. "Everyone wants a clean story now," Tsai said, but added, "clean isn't enough ... [I]t's table stakes."
To that end, all of the brand's products are formulated to be gentle and are certified vegan, excepting those containing beeswax, and formulated with materials such as sea grape caviar extract, oat kernel oil and extract, and chaga mushroom.
Tsai explained that she endeavors to leverage the most sustainable packaging possible, though like her multinational counterparts the process is ongoing and incremental. The founder is considering options such as bioplastics and noted that it's relatively easy for emerging brands to accelerate the transition to greener packaging. 
She added that she is happy for her brand to act as an eco-packaging "guinea pig" and that cocokind can publicly educate its consumers as it makes that journey. 
Tackling the Business Side of Beauty
Tsai left a job in the world of finance to build her company, scaling up under her own finances. The founder explained that it's important for founders to get to know their customers first and foremost.
She added that many entrepreneurs are too quick to exchange leadership or control over their businesses for investment—and that investment should not be the end goal, but rather a means to building meaningful relationships with more consumers.
That said, Tsai noted that her experience was only useful to a limited extent in the context of entrepreneurship. Perhaps most usefully, her finance background has allowed her to be unintimidated by the business side of the beauty business.
This confidence, however, did not assist in her with brand building, which she said required intuition and insights from her mother's career experiences.
Today, having reached new milestones in brand growth, Tsai explained that she is now finally able to work more on the business than in it, affording a big picture perspective for whatever's next at the brand.
Helping Others Grow
Tsai wanted to use her own story, insights and success to support upcoming female founders. To that end, she launched The cocokind Impact Foundation, which provides financial grants to female entrepreneurs focused on creating social impacts in the health, wellness and sustainability industries. In 2018, the organization awarded nearly $40,000 and will almost double for full-year 2019, according to Tsai.