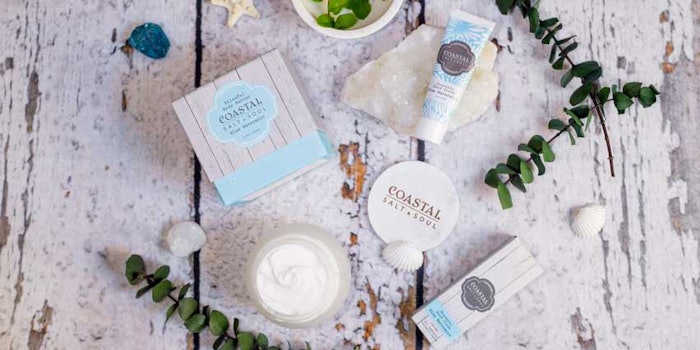 Coastal Salt & Soul has announced that it was recently acquired by Celebrate Beauty Brands, LLC, a newly formed subsidiary of Beauty Partners, LLC.
According to Coastal Salt & Soul, the acquisition will help accelerate the growth of the brand in the specialty bath & body category through an expansion of North American and Global distribution. 
The brand's corporate office will relocate to Hauppauge, New York. CEO of Coastal Salt & Soul, Alisa Marie Beyer, will remain in her role. 
Beyer said, "Celebrate Beauty Brands is extremely well positioned to build on our already strong momentum and incredible consumer loyalty through increased customer wins and new retailer partnerships. Bruce [Kowalsky] and Barry [Shields] are industry superstars with a deep understanding of the beauty space, with hugely successful launches of several iconic products under their belts, including the Defy & Inspire nail brand at Target, and the first at-home gel manicure system, Red Carpet Manicure. They share the same vision as my team and me for the future of Coastal. The brand is set for amazing things."
Kowalsky, co-founder of Beauty Partners, LLC, added, "With Coastal's existing portfolio of hugely popular butters, hand creams, and scrubs, as well as the development of new products and scents, we anticipate 2018 revenues between $15 - $20 million. Together with Alisa and the rest of the team, we're ready to start product development and innovation on new SKUs and consumer offerings."