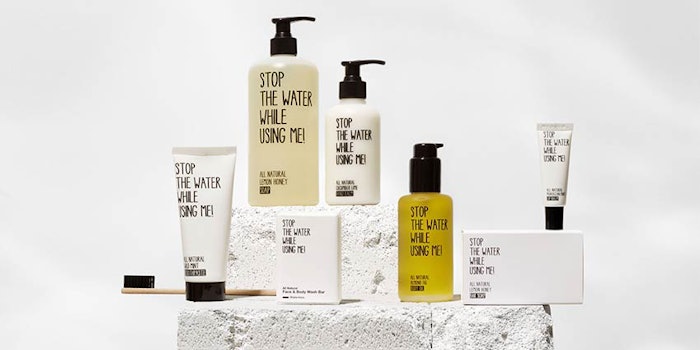 Beiersdorf has acquired natural cosmetics brand Stop The Water While Using Me! with intentions to jointly intensify the impact of sustainable skin care and further their commitment to climate and resource protection.
Previously: Beiersdorf Goes K-beauty with LYCL Deal
Both based in Hamburg, the companies plan to develop joint sustainability initiatives and create high-impact solutions for more sustainable action. The business operations of the brand will continue to be managed independently.
Since 2011, Stop The Water While Using Me! has been pursuing its mission: to "protect, save and donate water." The brand practices sustainability and promoting responsible use of water resources, with refillable systems and biodegradable skin care products.
Its product range consists of solid, waterless body and hair care products as well as shower, hand, body and oral hygiene items.
The acquisition complements Beiersdorf's portfolio in the natural cosmetics segment and further bolsters its sustainable focus as part of its C.A.R.E.+ strategy.
"Stop The Water While Using Me! will strengthen the Beiersdorf brand family with innovative, natural skin care and the know-how of a highly dedicated team—the brand name embodies a purpose that has been lived authentically since the label was created," said Iain Holding, general manager of Beiersdorf Germany/Switzerland. "We are investing in the brand's vision and ideas because we believe that we can make a difference by joining forces. Together we can combine our complementary expertise, beliefs and talents to drive sustainability projects and skin care with true added value for both consumers and the environment. We are pleased that Stop The Water While Using Me! has joined our Beiersdorf community and are looking forward to expanding our sustainability commitments in line with our C.A.R.E.+ strategy."
"We believe that our partnership with Beiersdorf will be a win-win-win for all sides: for Stop The Water While Using Me!, for Beiersdorf and, above all, for the environment—through our shared sustainable mission," Nina Witt, CEO of Stop The Water While Using Me!, said. "Beiersdorf will provide us with a working environment where we can independently advance our purpose work, spread the message of Stop The Water While Using Me! and maximize our sustainability ambitions with a strong partner at our side. This enables us to generate an impact with our ideas much faster."