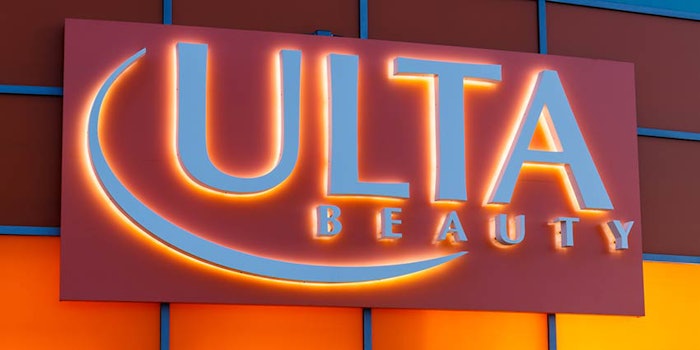 Ulta Beauty, Inc. has announced further updates to its operations in response to the COVID-19 pandemic, which now includes the temporary furloughing of many store and salon associates, effective April 19, 2020. The company also shared it has every intention of bringing its workforce back when it is safe to do so.
Previously: 12 Ulta Beauty Coronavirus Measures
With this news, Ulta also revealed all furloughed associates participating in company benefit plans will remain enrolled in their respective coverages.
Related: The New Abnormal
Furloughed associates will be eligible to apply for unemployment benefits, which were recently increased with the passing of the federal CARES Act. Ulta Beauty has also curated relevant resources and information to help guide associates during this interim furlough and offers continued access to its Human Resources Support Center. The company shared these resources internally in tandem with this announcement.
As the company manages the COVID-19 pandemic, CEO Mary Dillon has elected to indefinitely forgo her base salary. Additionally, she has made a personal donation of $500,000 to the Ulta Beauty Associate Relief Program, which is part of the Ulta Beauty Charitable Foundation.
The program, established in 2017, provides monetary grants to associates facing personal hardship. Of note, grant criteria was expanded to include those in need of assistance due to a personal hardship as a result of COVID-19. The Ulta Beauty executive team and board of directors will each make personal donations as well.
Associates supporting the Ulta Beauty distribution centers will continue operations to support the company's essential e-commerce business. As previously announced, Ulta Beauty is providing associates actively working at the distribution centers a $2-per-hour wage premium for their continued commitment.
Select corporate associates are also being reallocated on an as-needed basis to support the most pressing business needs such as guest services, human resources, and others.
In its part to help the community of health care workers on the front lines, Ulta Beauty will donate 450,000 medical grade gloves from its salons to hospitals in need across the country in collaboration with FEMA.
Ulta Beauty stores will remain closed until it is safe to reopen in support of efforts to slow the spread of COVID-19 and to safeguard associates and guests alike. The company will continue to consider available guidance from federal, state and local government and health officials regarding when to reopen stores. All guests can continue to shop through the Ulta Beauty app or online.
"As we navigate this very fluid situation, our teams are evaluating all new information, including recently passed legislation, to ensure we can make the best decisions for our associates, our guests and our business," Dillon said. "After thoughtful consideration, we have made the difficult decision to temporarily furlough many of our store and salon associates. During these uncertain times, we will do all we can to make sure these associates are supported."
Dillon continued, "As we move forward, we intend to stay true to our company values and work towards the day when we can reopen with the most strength and safety as possible. This means we will continue to make important decisions in an effort to support our business and importantly, our teams. In these unprecedented times, we want to do our part to help the larger, global community and take care of our Ulta Beauty family. We are in this together."