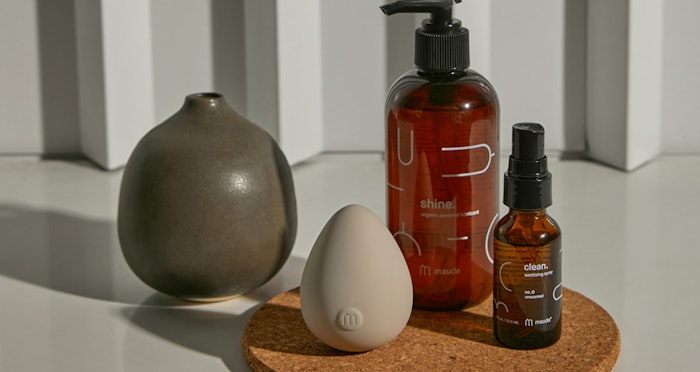 maude
Maude, a sexual wellness company featuring Dakota Johnson as a co-creative director, has announced the close of an oversubscribed $5.8 milliond Series A.
Previously: Vice Ventures Invests in Maude
The raise was led by True Beauty Ventures, a beauty and wellness-focused fund that grows early-stage brands in the beauty and wellness space, as well as Fable Investments (the parent company of Aesop and The Body Shop), U.K. consumer fund True and media company Endeavor.
To date, the brand has raised $10 million over four rounds of funding.
This funding round will be used to grow Maude's team, product line and content platform. In addition, the raise will support the expansion of Maude into international markets and additional key retailers in 2021 and 2022. 
Cristina Nuñez, co-founder and general partner at True Beauty Ventures, said, "Maude is a category leader with a clear mission to democratize and destigmatize an antiquated view of sex while reframing intimacy as self-care. Éva is a visionary, fearless founder who has innovatively bridged the gap between sex, health, and personal care through a thoughtful product offering that has redefined the meaning of modern intimacy for the consumer."
Claire Cherry, investment principal at True, said, "Following our seed investment at the end of last year we've been blown away by Éva and the team and couldn't turn down the opportunity to support a business that continues to outperform, and embodies everything we look for in the brands we support; one that has a great founding team, that is digital-first, fit-for-the-future and operating at the heart of attitudinal and consumer behavior shift. We are looking forward to supporting Maude through introductions we can make across our retail and consumer network as it launches its exciting roll-out into the United Kingdom and Europe."