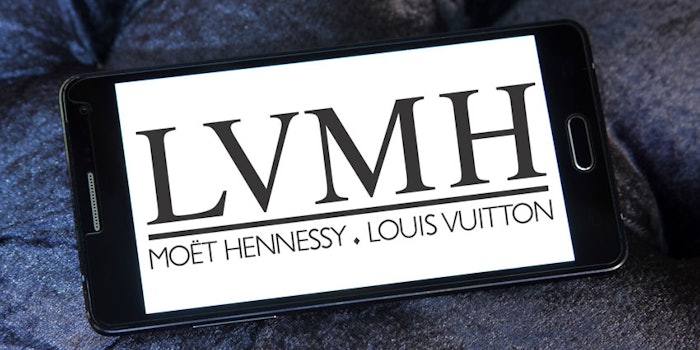 LVMH has released its six month 2021 results, which showed the company recorded revenue of 28.7 billion euros, an increase of 56% compared to the previous year. 
Perfumes & Cosmetics
The perfumes and cosmetics group reported revenue of 3.025 billion euros in the first half of 2021, a 31% increase from the previous year. Organic revenue growth was 37%.
Q2 results showed that the category reported 1.475 billion euros in revenue. 
LVMH's brands are benefiting from continued growth in online sales, partially offsetting the impact of the suspension of international travel and the closure of many points of sale. 
The continued success in Sauvage, Miss Dior and J'Adore, the roll-out of Rouge Dior lipstick, and the progress of skin care lines Prestige and Capture contributed to the sector's performance. 
Guerlain showed positive momentum, driven by skin care, thanks to Abeille Royale and Orchidée Impériale.
Parfums Givenchy is gaining market share due to the success of L'Interdit perfume and the promising relaunch of the Irresistible collection. Fresh confirmed its presence in ultra-premium skin care and Maison Francis Kurkdjian continues to post strong growth. 
Bernard Arnault, Chairman and CEO of LVMH, said:
LVMH has enjoyed an excellent half-year and is reaping the benefits of having continued to innovate and invest in its businesses throughout the pandemic despite being in the midst of a global crisis. The creativity, the high-quality and enduring nature of our products and the sense of responsibility that drives us, have been critical in enabling us to successfully withstand the effects of the pandemic; they will remain firmly embedded in all our Maisons, thereby ensuring their continued desirability.
Highlights from the first half include the integration of the Maison Tiffany and the inauguration of La Samaritaine after an ambitious renovation program. Within the current context, as we emerge from the health crisis and see a recovery in the global economy, I believe that LVMH is in an excellent position to continue to grow and further strengthen our lead in the global luxury market in 2021. As France is the principal recruitment area and the country of origin of many of our products, the growth of LVMH benefits the country today, and even more tomorrow, with all our Maisons being proud to make their contributions.