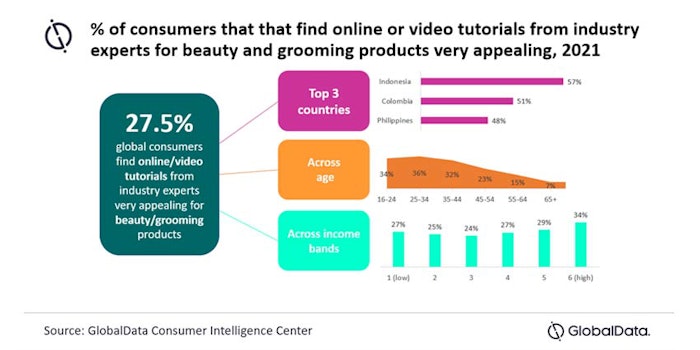 A new survey from GlobalData notes that beauty tutorial videos appealed to high-income consumers aged 16 to 44, most notably in Asia (Indonesia and the Philippines, particularly) and Latin America (Colombia). These videos were a boon to beauty brands amid the pandemic, which may persist amid new surges of COVID-19.
The age cohort most influenced by these videos are 25-34 year olds.
Across age groups, one third of high-income consumers find online beauty tutorials very appealing.
Survey: Consumers Prefer Virtual Makeup Try-ons
These platforms will be most important to the makeup category, per the analysis, powering a market that will grow to $63.7 billion globally by 2025. Brands that have already leveraged tutorials and virtual try-ons include Lancôme and Bobbi Brown.
The Q1 2021 survey asked consumers: "How appealing are online/video product tutorials from beauty and grooming industry experts?"
"Online beauty tutorials are an excellent tool to reach out to shoppers directly and seem like an authority in the field," said Amira Freyer-Elgendy, Consumer Analyst at GlobalData. "It serves to illustrate how a product looks/ functions as well as creating a more approachable reputation. Beauty tutorial videos are appealing to near a third of the global population (27.5% to be exact). Innovative beauty products are especially common in Asia and South America, and so, naturally, tutorials are especially welcome in these regions."
She continued: "Younger people are highly familiar with technology and the online world, often turning to the net for advice and guidance. Beauty advice is well within their reach, with a wealth of different instructional videos available. Further, the immensely popular TikTok has recently made allowances for three-minute videos on the platform - instead of one minute - making it easier for non-professionals to share beauty and cosmetics tutorials."
Freyer-Elgendy added: "Online masterclasses may be especially useful for premium brands hoping to capture the attention and target high-income consumers."
She concluded: "Although many consumers can tentatively re-enter the world of retail, brands are naturally still incorporating online aspects into their launches: the most recent example being Valentino Beauty's virtual launch strategy. Building an online following and encouraging #ValentinoBeauty content from other consumers is a cornerstone of the brand, and will likely be used to increase visibility and justify the premium image and price."