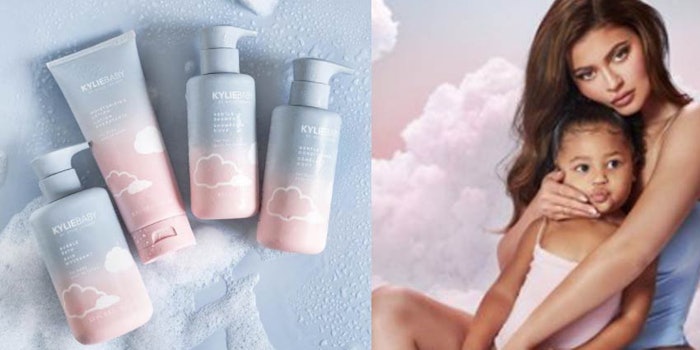 Kylie Baby from Kylie Jenner is launching today, September 28, 2021, at kyliebaby.com. The range is vegan and cruelty-free and comprises a moisturizing locition, bubble bath, conditioner and shampoo. The introduction of the clean range follows the clean relaunch of Kylie Cosmetics in June 2021.
The fragrance-free lotion, for instance, reportedly leaves skin soft, smooth and non-greasy⁠⁠ and contains glycerin, coconut-based surfactants, aloe leaf, green tea, avocado oil, chamomile and sunflower seed oil.
Jenner's announcement is below:
I am excited to introduce Kylie Baby. This is something I have been working on for more than three years and it's been so hard to keep this a secret. I'm so happy it's finally here!
When my daughter was born I was working on developing Kylie Skin and I started to research baby skin care products and ingredients because I wanted to make sure I was putting gentle, clean, safe products on her skin that followed the core principles of my Kylie Skin … vegan, cruelty free, gluten free, paraben and sulfate free, etc. Kylie Baby was my way of creating products that I could develop from the ground up to be exactly what I wanted for my babies, so that you can have our tried and tested formula favorites for yours.
Designed for babies and kids of all ages, my products are conscious and gentle pediatrician-tested skincare and hair care must-haves. On top of following all of my key principles for clean skincare, I worked closely with my team and chemists to select naturally-derived ingredients and botanicals for my Kylie Baby formulas while making them all hypoallergenic, pediatrician tested, tear free and free of the harsh ingredients that none of us want to be putting on our babies.
Bath time has always been our special time together and my favorite part of the day. It's so amazing for us to now have these products that my daughter helped me create, to make our bath time even more special.
I'm so proud of what I've created for Stormi and for all of you to use on your babies. I hope you love these products as much as we do.