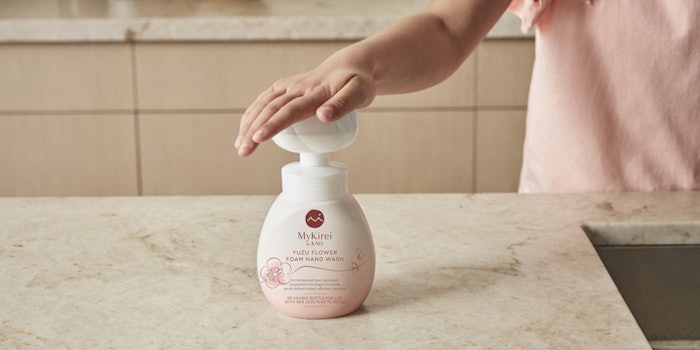 MyKirei by KAO has announced a new program in partnership with TerraCycle to help instill the importance of good hygiene in children.
Related: Unwrapped Life Partners with Plastic Bank for Earth Day
The Healthy Hands campaign, featuring a handwashing curriculum that makes the daily task a fun activity, will help teachers in schools across the country educate their students on how to properly wash their hands.
The 6-step hand washing curriculum includes a Healthy Hands Kit featuring the brand's Yuzu Flower Foam Hand Wash and a UV-light germ detector box that helps students reveal germs that were missed through improper washing to make the lesson more interactive and engaging.
Following the lesson, each student will take home a complimentary bottle of the Yuzu Flower Foam Hand Wash in a reusable bottle, along with a discount code to shop for refills.
As part of the program, Kao USA and TerraCycle will hold the Clean Hands Clean World recycling contest that will award up to $5,000 in prizes, including a garden bed for their school made from recycled packaging, to the top three schools that recycle the most MyKirei by KAO refills. 
John Sullivan, vice president of business growth/international,said, "It is our mission to embody the Kirei principles in all of our products but also in our actions as a company. While always important and pertinent, the Kirei sensibility has never been more relevant than today as we face such challenging times. With MyKirei by KAO and our Healthy Hands program, we are expanding our culture of cleanliness into the next generation with beautiful, practical examples of kinder, more sustainable ways of living."