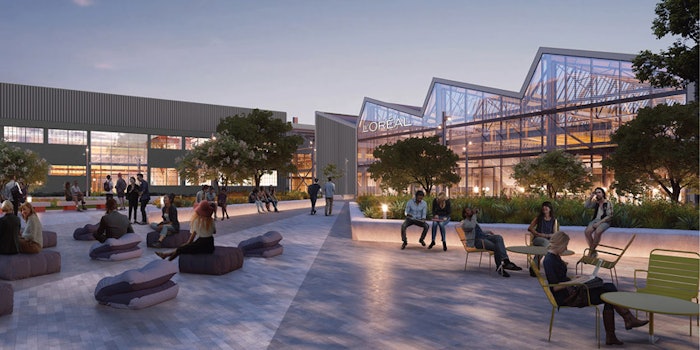 L'Oréal USA has announced it will be opening a second company headquarters at 888 North Douglas in El Segundo, California, in early 2022.
Related: L'Oréal Names Asmita Dubey Chief Digital Officer
L'Oréal's second company headquarters will bring together the teams from its California-based brands such as NYX Professional Makeup, Urban Decay and Pulp Riot into one creative campus.
With more than 100,000 square feet of indoor and outdoor work-spaces, the headquarters is designed with sustainable standards on a 25-acre park-like campus transformed from an aerospace manufacturing site.
The workspace will offer amenities such as dedicated networking and collaboration spaces, an indoor-outdoor work concept with expansive outdoor patios, a wellness and exercise studio, a company store featuring products across its portfolio of brands, and natural light coming in from the building's 45-foot ceilings.
The second headquarters will also serve as the home to the first-ever West Coast L'Oréal Professional Products Academy, offering education and connection to the professional beauty community in Los Angeles and across the country. 
From advanced hair styling techniques and skills training to certification classes, the Academy experience aims to grow, inspire and develop salon partners and beauty artists.
The headquarters will complement the company's main headquarters located on the west side of Manhattan in the Hudson Yards neighborhood, which it opened in June 2016.
Stéphane Rinderknech, president and CEO of L'Oréal USA, said, "We are fortunate to be in a position to invest in the expansion and future of our business. California has become a global stage for creativity, innovation, trends, diversity and talent in the beauty industry–and, as a result, it has become a driving force of our business. We are excited at the prospect of our brand teams coming together to build the future of beauty in the Los Angeles area."