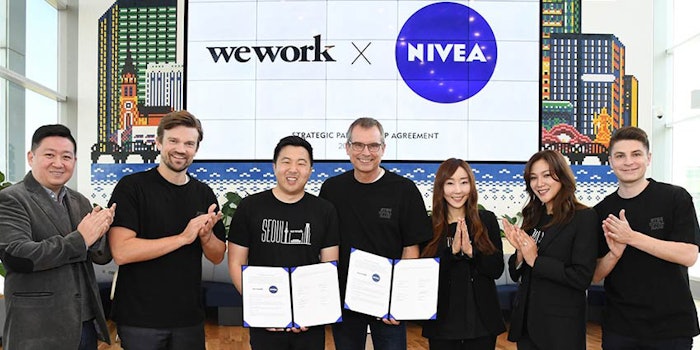 Beiersdorf has announced the establishment of an innovation hub in Seoul.
Sponsored by Nivea, the hub will grant select Korean startups access to Beiersdorf's global market reach and skin care industry expertise. Beiersdorf will offer a dedicated team for startup collaboration and acceleration, which will serve as the interface to the company's senior executives from marketing, sales, digital, supply chain and research and development.
Selection for the first cohort will begin in early 2019.
"Many companies build accelerators in their home country. We want to be where the future of skin care begins. We are embracing the Korean ecosystem because it is a frontrunner in beauty and digital technologies," said Ralph Gusko, Beiersdorf board member for brands, research and development, Asia Pacific.
Related: Why Nivea is Expanding Crowdsourcing for New Innovation
Beiersdorf teamed up with WeWork, which will host the innovation hub within the co-working space in Seoul's Hongdae district; WeWork will leverage its community to strengthen Beiersdorf's access to the startup ecosystem.
"WeWork is happy to collaborate with Beiersdorf on this exciting project. This partnership will add to our continuous effort in building a creative and innovative community that fosters diverse creators in Korea," said Matthew Shampine, general manager, WeWork Korea. "Based on our mutual belief that innovation originates in strong collaboration, we are excited to provide opportunities and resources to startups in the beauty industry together with Beiersdorf."
"At Beiersdorf, we believe in partnership. Our foundation and global success is based on close collaboration with partners in the skin care market," said Endrik Hasemann, general manager, Beiersdorf Korea. "Today, we want to help Korean entrepreneurs build their ideas and open the doors to the global market."